Space Foundation Press Releases
---
Jack Swigert Aerospace Academy Opens
Written by: developer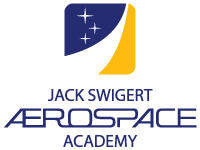 COLORADO SPRINGS, Colo. (Aug. 18, 2009) — A new aerospace-themed middle school created through a partnership between the Space Foundation and Colorado Springs (Colo.) School District 11 (D-11) opened Aug. 18 with more than 500 students, 42 teachers, and onsite support from the Space Foundation. The Jack Swigert Aerospace Academy is named in honor of Colorado native and astronaut John L. "Jack" Swigert, who served on NASA's Apollo 7 and Apollo 13 missions. Swigert died of bone cancer in 1982 shortly after being elected to the U.S. House of Representatives. The Jack Swigert Aerospace Academy curriculum, which is collaboratively developed by the Space Foundation and D-11, uses space and aerospace themes and principles to teach a broad range of subjects, with focus on improving students' proficiency in science, technology, engineering, the arts, and mathematics (STEAM).
District 11, the Space Foundation and a large cadre of community volunteers, including The Broadmoor Hotel, Ft. Carson Army Post, Peterson Air Force Base, Freeman Decorating (Denver), The Larson Group Architects, the League of United Latin American Citizens, and Production Printing helped ready the campus for today's opening.
Although classes have started, work is still underway at Jack Swigert Aerospace Academy, further improving the facilities, creating state-of-the art teaching laboratories, and developing additional space-related curriculum. Colorado Springs Utilities is planning a community service project on Oct.10 at the campus.
The Academy occupies three of the four buildings on the campus; the fourth will house the Space Foundation Discovery Institute – a national professional development center for teachers and an education destination for students. Space Foundation education professionals will relocate to the Space Foundation Discovery Institute over the coming months.
In addition to providing onsite training and support for Jack Swigert Aerospace Academy teachers, the Space Foundation Discovery Institute will provide training and support for teachers and students from throughout District 11 and from around the world. It will house classrooms, the NASA Educator Resource Center, and eventually include three major laboratories: a simulated space mission operations center to open in early 2010; a simulated Martian terrain laboratory to open in early 2011; and, as funding becomes available, a Science on a Sphere facility in early 2012.
"The opening of the Jack Swigert Aerospace Academy and Space Foundation Discovery Institute is the realization of a dream for both the Space Foundation and District 11," said Elliot Pulham, chief executive officer of the international, non-profit organization, which is headquartered in Colorado Springs. "We are developing a powerful education model, using proven space- and aerospace-based methods, that will benefit our children, our community, and the world."
Academy Principal Larry Bartel acknowledged that putting the new school together in the short time between the School Board's June 10 approval of the plan and the Aug. 18 opening was a challenge, but, he said, "The community embraced this new school in a way that I've never seen before. We had volunteers lined up at the door, we have a strong team of mentors, and we've even been 'adopted' by U.S. Army's 4th Battalion 42 Field Artillery Regiment at Ft. Carson."
"We knew this plan was challenging," added Pulham. "But, when you reach, why not reach for the stars?"
On Aug. 26, District 11 and the Space Foundation will host a Jack Swigert Aerospace Academy and Space Foundation Discovery Institute grand opening celebration from 11:00 a.m. to 1:00 p.m. at the 4220 East Pikes Peak Ave. campus to give parents and community members a chance to become part of the new school.
The Space Foundation is a recognized leader in global space awareness activities, educational programs that bring space into the classroom, and major industry events, including the National Space Symposium, which brings more than 8,000 space leaders from around the world to Colorado Springs each spring.
About School District 11
Colorado Springs School District 11 is the largest school district in the Colorado Springs area with 35 elementary schools, nine middle schools, five high schools, six alternative schools and six charter schools. As one of the oldest school districts in Colorado Springs, District 11 enjoys a long and distinguished history of providing excellent education. The district is committed to providing the best in educational choices for the 21st century graduate and offers many unique and exceptional educational opportunities – elementary, middle, and high school International Baccalaureate programs and fine arts focus schools, a math/science magnet middle school, CORE Knowledge, Advanced Placement courses, unique Gifted and Talented services, a comprehensive Career and Technology Education program, a digital high school at the Citadel Mall, and the only public Montessori program for elementary students in the region. District 11 staff excellence includes such recent honors as a Colorado Title I Distinguished School, the Colorado High School Chemistry Teacher of the Year, a 2009 National PTA Parent Involvement School of Excellence, and a 2009 Colorado Trailblazer School to Watch. D-11 students consistently take top honors in state and national academic competitions in forensics, history, geography, writing, foreign languages, vocational education, music, art, English, math and science. For more information, please watch Comcast Channel 16, visit www.d11.org or call 719-520-2005.
About the Space Foundation
The Space Foundation is an international, nonprofit organization and the foremost advocate for all sectors of the space industry – civil, commercial, and national security. Founded in 1983, the Space Foundation is a leader in space awareness activities, space-related educational programs, and industry events, all in support of its mission "to advance space-related endeavors to inspire, enable, and propel humanity." An expert in all aspects of the global space industry, the Space Foundation publishes The Space Report 2009: The Authoritative Guide to Global Space Activity and provides three indices that track daily performance of the space industry. The Space Foundation will sponsor the Strategic Space Symposium with USSTRATCOM Nov. 2-4 in Omaha, Neb., and the 26th National Space Symposium in Colorado Springs, Colo., April 12-15, 2010. Headquartered in Colorado Springs, the Space Foundation conducts research and analysis and government affairs activities from its Washington, D.C., office and has field representatives in Houston, Texas, and Cape Canaveral, Fla. For more information, visit www.SpaceFoundation.org. Follow us on Twitter: SpaceFoundation.
# # #
Contact:
Carol Hively
Public Affairs Specialist
719.576.8000
[email protected]
Contact:
Colorado Springs School District 11
Elaine Naleski
Director – Communications/Community Relations
719.520.2005 or 499.6448
[email protected]  
---
Posted in Space Foundation Press Releases