Report from Headquarters
---
Jack Swigert Aerospace Academy Reaches for Stars
Written by: developer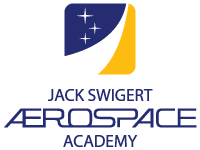 A new aerospace-themed middle school created through a partnership between the Space Foundation and Colorado Springs (Colo.) School District 11 (D-11) opened Aug. 18 with more than 500 students, 42 teachers, and onsite support from the Space Foundation.
The Jack Swigert Aerospace Academy is named in honor of Colorado native and astronaut John L. "Jack" Swigert, who served on NASA's Apollo 7 and Apollo 13 missions. Swigert died of bone cancer in 1982 shortly after being elected to the U.S. House of Representatives.
Space Foundation education specialists are helping D11 develop the Academy's aerospace-themed curriculum that both meets district, state, and national standards and improves student proficiency in science, technology, engineering, arts, and mathematics (STEAM). The "hands-on, minds-on" classroom approach includes activities designed to build student enthusiasm for technical subjects. Projects will include rocketry, robotics, mission control simulations, and other scientifically grounded space-based activities.
District 11, the Space Foundation and a large cadre of community volunteers, including The Broadmoor Hotel, Colorado Springs Utilities, Freeman Decorating (Denver), Ft. Carson Army Post, The Larson Group Architects, the League of United Latin American Citizens,  Peterson Air Force Base, and Production Printing helped ready the campus for the opening.
The Academy occupies three of the four buildings on the campus; the fourth will house the Space Foundation Discovery Institute – a national professional development center for teachers and an education destination for students. Space Foundation education professionals will relocate to the Space Foundation Discovery Institute over the coming months (see related article in this issue of Space Watch).
"The opening of the Jack Swigert Aerospace Academy and Space Foundation Discovery Institute is the realization of a dream for both the Space Foundation and District 11," said Space Foundation Chief Executive Officer Elliot Pulham. "We are developing a powerful education model, using proven space- and aerospace-based methods, that will benefit our children, our community, and the world."
Academy Principal Larry Bartel acknowledged that putting the new school together in the short time between the School Board's June 10 approval of the plan and the Aug. 18 opening was a challenge, but, he said, "The community embraced this new school in a way that I've never seen before."
"We knew this plan was challenging," added Pulham. "But, when you reach, why not reach for the stars?" 
This article is part of Space Watch: September 2009 (Volume: 8, Issue: 9).
---
Posted in Report from Headquarters