Space Foundation Press Releases
---
Barrage to Launch 26th National Space Symposium
Written by: developer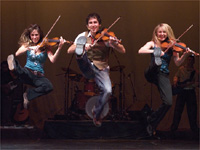 COLORADO SPRINGS, Colo. (Dec. 3, 2009) -- An onslaught of energetic and eclectic music will officially launch the Space Foundation's 26th National Space Symposium when the internationally acclaimed musical group Barrage takes the stage at the Opening Ceremony, sponsored by Northrop Grumman, the evening of April 12. The 26th National Space Symposium, which runs April12-15 at The Broadmoor Hotel in Colorado Springs, Colo., is the "must attend" event for the global space community. It brings together all sectors of space - civil, commercial, national security, new space entrepreneurship, and finance - to highlight accomplishments, address opportunities, discuss issues, network, and preview the latest in space technology.
Among the featured presenters are NASA Administrator Maj. Gen. Charles Bolden, Jr., USMC (Retired); Air Force Space Command Commander Gen. C. Robert Kehler, USAF; actor/director Leonard Nimoy; and three decades of leadership from the National Reconnaissance Office.
The National Space Symposium's Opening Ceremony is noted for excitement, entertainment, and variety - and Barrage delivers all those elements. The Calgary, Canada-based music ensemble features an international, multi-talented cast performing an eclectic mix of music, song and dance that represents a diverse fusion of cultures and musical styles. Barrage combines contemporary world music influences, layered vocal arrangements, and pulsating rhythms with amazing energy and musical virtuosity.
"The space community is dynamic, powerful, and, certainly, a unique blend of nationalities and cultures. Our Opening Ceremony reflects the energy, excitement, and diversity of our attendees, exhibitors, and presenters," said Space Foundation Chief Executive Officer Elliot Pulham. "And, it sets the stage for a spirited, yet serious, program over the next three days."
The 26th National Space Symposium includes presentations, panels, forums, and workshops covering all aspects of space, plus special dinners and luncheons, and presentation of several prestigious space-related awards. The event's top allure for attendees, exhibitors, sponsors, and speakers - of which there were nearly 8,000 in 2009 - is as a venue for networking and conducting meaningful business. In addition to the mainstream program, the 26th edition will include a new program covering cyberspace and greatly expanded programs for young, up-and-coming "new generation" space professionals.
Online registration and more information, including agenda, speakers, and exhibitors, are available at www.NationalSpaceSymposium.org/.
About the Space Foundation
The Space Foundation is an international, nonprofit organization and the foremost advocate for all sectors of the space industry - civil, commercial, and national security. Founded in 1983, the Space Foundation is a leader in space awareness activities, educational programs that bring space into the classroom, and major industry events, all in support of its mission "to advance space-related endeavors to inspire, enable, and propel humanity." An expert in all aspects of the global space industry, the Space Foundation publishes The Space Report 2009: The Authoritative Guide to Global Space Activity and provides three indices that track daily performance of the space industry. Through its Space Certification and Space Technology Hall of Fame programs, the Space Foundation recognizes space-based technologies and innovations that have been adapted to improve life on Earth. Headquartered in Colorado Springs, the Space Foundation conducts research and analysis and government affairs activities from its Washington, D.C., office and has field representatives in Houston, Texas, and Cape Canaveral, Fla. For more information, visit www.SpaceFoundation.org/. Follow us on Twitter: SpaceFoundation and read about the latest space news and Space Foundation activities in Space Watch.
###
---
Posted in Space Foundation Press Releases