Report from Headquarters
---
Richard Truly: Space is Worth the Risk
Written by: developer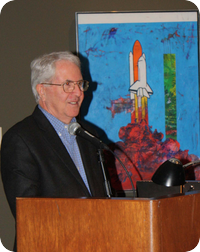 It was a warm, sunny Saturday afternoon, but the appeal of meeting a former astronaut drew a crowd away from the beautiful weather and into a softly lit gallery at the Colorado Springs Fine Arts Center.
Surrounded by an exhibit of space art, more than 100 people settled into folding chairs in the gallery to hear the Honorable Richard H. Truly, retired vice admiral, former astronaut, former NASA administrator, commander of the Space Shuttle Challenger, and Life Director of the Space Foundation, share his experiences in space.
In the Jan. 16 lecture, Truly described what it felt like to roar into space by rocket booster power, "…everything rattled, banged, and shook … you seriously got the impression NASA didn't screw everything down … and then complete silence … it's surreal." Views of Earth from space? "…the pictures you've seen of Earth from space are lousy, even with today's technology … nothing can capture the planet's beauty and motion that can be seen from orbit."
When he retired, Truly promised himself to also retire from public speaking, but this engagement was so compelling he made an exception.
"I embraced the NASA arts program," Truly told his audience, speaking of the role he had in NASA's artist-in-residence program, as well as an earlier NASA art exhibit. "I felt there was a connection between the peace and tranquility of space and inviting artists to do their own space exploration as they saw it."
Truly described the U.S. space program as, "…something worth taking risks for. I've taken that risk. Our country and humankind has been repaid many times and in many ways for taking that risk."
In discussing the future of the U.S. space program, Truly said, "NASA is at a crossroads, but NASA has always been at a crossroads, it's that kind of animal. One of the worst things that can happen going forward is a mismatch between dollars allotted for the space program and the expectations of the public. That's what we have now."
He emphasized the need for updated technology and said, "We're at an excruciating moment in international competition, especially with China and Russia. International collaboration is necessary, but we need to be a leader."
Truly's career as an astronaut included NASA's Apollo, Skylab, Apollo-Soyuz, and space shuttle programs. In 1981, he piloted Columbia, the first shuttle to be reflown into space, establishing a world circular orbit altitude record. In 1983, he commanded Challenger, the first night launch/landing mission of the Space Shuttle program. Truly left NASA in 1983 to become the first commander of the Naval Space Command, in Dahlgren, Va.
Following the Challenger accident in 1986, Truly was called back to NASA as associate administrator for Space Flight and led the accident investigation. President Reagan awarded Truly the Presidential Citizen's Medal in 1989 and nominated him for the post of NASA administrator, a job Truly held from 1989 to1992.
Truly, who lives with his wife Cody in the mountains west of Denver, is a member of the U.S. Astronaut Hall of Fame and recipient of two Distinguished Service Medals, the Outstanding Leadership Medal, the Exceptional Service Medal, and two Space Flight Medals.
The exhibition NASA | ART: 50 Years of Exploration continues at the Colorado Springs Fine Arts Center through March 7. Organized by the Smithsonian Institution Traveling Exhibition Service and the National Aeronautics and Space Administration (NASA), in cooperation with the Smithsonian's National Air and Space Museum, the exhibit includes 73 works of art, plus a film series, and lectures.
After Colorado Springs, the NASA \ Art exhibit will continue at the following locations:
• April 3-June 27, 2010: Lauren Rogers Museum of Art, Laurel, Miss.
• July 7-Oct. 10, 2010: Museum of Florida History, Tallahassee, Fla.
• Oct. 30, 2010 -Jan. 23, 2011: Arizona Museum for Youth, Mesa, Ariz.
• Feb. 12-May 8, 2011: Clay Center for the Arts and Sciences of West Virginia, Charleston, W.V.
• May 28-Oct. 9, 2011: National Air and Space Museum, Washington, D.C.
• Nov. 4, 2011-Jan. 29, 2012: Las Cruces Museum of Art, Las Cruces, N.M.
• April 4-June 17, 2012: Leigh Yawkey Woodson Art, Wausau, Wisc.
Pictured: The Honorable Richard H. Truly speaking at the Colorado Springs Fine Arts Center in front of a painting by Jack Perlmutter from 1982, "Lift off at 15 seconds."
 
This article is part of Space Watch: Februrary 2010 (Volume: 9, Issue: 2).
---
Posted in Report from Headquarters