Report from Headquarters
---
Mars vs. Moon
Written by: developer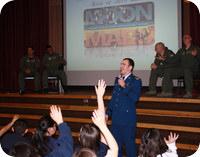 Four Air Force Captains from Schriever Air Force Base presented a lively debate on the future of the U.S. space program to sixth grade students at the Jack Swigert Aerospace Academy in February. The Air Force base and the school are both based in Colorado Springs, Colo.
The Space Foundation asked the Captains to participate in the debate as part of the students' language arts program, focusing this quarter on persuasion. Captains Tyler Hale and Justin Howells were assigned to persuade the students that the U.S. space program should concentrate on returning to the Moon, while Captains Robert Hoskins and Wade McGrew were asked to argue in favor of manned space flight to Mars instead.
The debate included basic elements of persuasive speech, such as factual data and appeal to emotion.
One of the factual points, argued on behalf of the Moon mission, was that "the Moon is closer and less expensive to get to than Mars."
On the emotional side, Capt McGrew argued for the more challenging prospect of manned flight to Mars by asked the students, "Did Dr. Martin Luther King make advances by doing things that were easy? It's the very nature of exploration to do things that are hard."
In the end, emotion won out and the students cheered in favor of taking on the bigger challenge of sending humans to Mars. The debate closed with comments by guest speaker First Class Cadet Nolan Brock of the Air Force Academy, who encouraged the students to pursue their interest in space. Brock, a senior astronautical engineering major, is also team lead for the FalconLaunch rocket program, currently the only undergraduate rocket program to reach space.
The Jack Swigert Aerospace Academy is a public aerospace-themed middle school created through a partnership between the Space Foundation and Colorado Springs (Colo.) School District 11 (D-11). The Mars vs. Moon debate is one example of how the Academy's curriculum is collaboratively developed by the Space Foundation and D-11, using space and aerospace themes and principles to teach a broad range of subjects, with focus on improving students' proficiency in science, technology, engineering, the arts, and mathematics (STEAM).
 
This article is part of Space Watch: March 2010 (Volume: 9, Issue: 3).
---
Posted in Report from Headquarters