Report from Headquarters
---
Space Foundation Participates in UNCOPUOS Meeting
Written by: developer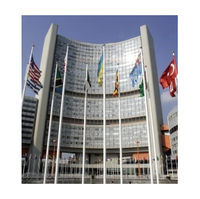 The Space Foundation recently participated as a Private Sector Advisor as part of the United States delegation to the 47th Session of the Scientific and Technical Subcommittee (STSC) of the United Nations Committee on the Peaceful Uses of Outer Space (UNCOPUOS), Feb. 8-19 in Vienna, Austria. This year's STSC, which is chaired by Ulrich Huth of Germany, had 57 of the 69 UNCOPUOS member states represented.
Established in 1959, UNCOPUOS is one of the largest committees in the United Nations. In addition to member states, a number of international organizations, including both intergovernmental and non-governmental organizations, have observer status with COPUOS and its subcommittees.
Agenda items at the meeting included:
The UN program of space applications;
Remote sensing and applications for developing countries;
Using nuclear power sources in outer space;
Space debris;
Space-system-based disaster management support;
Near-earth objects;
Global navigation satellite systems;
An international space weather initiative; and
Preliminary discussions of a framework for a United Nations space policy
Common themes heard in the general discussion – in addition to agenda items – were: concerns about the long-term sustainability of space activities with the growing number of space actors; and the importance of international cooperation.
The meeting included a number of technical and special presentations, including a presentation by the United States Strategic Command on the expansion of U.S. capabilities to track objects in space, to make related data available to the public, and to work with international entities to avoid collision of space objects.
The Space Foundation took part in a number of off-agenda activities, including working groups on the long-term sustainability of space. Additional meetings were conducted with leadership of the Space Generation Advisory Council and the Center for Strategic and International Studies regarding future cooperative initiatives.
The Space Foundation joined the U.S. State Department and Ambassador Glyn Davies of the U.S. Mission to International Organizations in co-hosting the United States Reception for STSC delegates and UN Office of Outer Space Affairs staff members.
This article is part of Space Watch: March 2010 (Volume: 9, Issue: 3).
---
Posted in Report from Headquarters