Space Foundation Press Releases
---
Lt. Gen. John Sheridan to Speak at 26th National Space Symposium
Written by: developer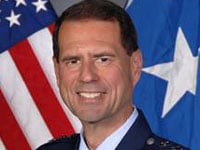 COLORADO SPRINGS, Colo. (Mar. 19, 2010) — Lt. Gen. John T. Sheridan, USAF, commander, Space and Missile Systems Center, Air Force Space Command, will be a featured speaker at the 26th National Space Symposium next month in Colorado Springs.
Sheridan is confirmed to speak on Thursday, April 15, the last day of the Symposium, which runs April 12-15 at The Broadmoor Hotel.
About Sheridan
As commander of the Space and Missile Systems Center, Sheridan is responsible for managing research, design, development, acquisition, and sustainment of space and missile systems, launch, command and control, and operational satellite systems. Responsible for more than 6,000 employees nationwide and an annual total budget in excess of $10 billion, he is based at Los Angeles Air Force Base, Calif.
Sheridan is the Air Force program executive officer for space and is responsible for the Air Force Satellite Control Network (AFSCN); space launch and range programs; the Space-Based Infrared System (SBIRS) Program; military satellite communication programs; the Global Positioning System (GPS); Defense Meteorological Satellite Program (DMSP); the space superiority system programs; and other emerging transformational space programs.
Sheridan's experience includes acquisition leadership of aircraft, simulator and classified space programs; requirements development across all Air Force space programs; and operational leadership in four different national space programs. He has served as military assistant to the assistant secretary of the Air Force for space, commandant of Air Command and Staff College, director of requirements at Headquarters Air Force Space Command, and most recently as the deputy director of the National Reconnaissance Office.
Sheridan has a Bachelor of Science degree in mechanical engineering from the University of Connecticut, and a Master of Business Administration degree from Bryant College in Rhode Island.
About the 26th National Space Symposium
The 26th National Space Symposium offers workshops, forums, panels, and presentations covering all aspects of space. This includes the Congressional Luncheon; Corporate Partnership Dinner; the General James E. Hill Lifetime Space Achievement Award Luncheon; the Space Technology Hall of Fame® Dinner; and the new Cyber 1.0. The Symposium also includes engaging programs for selected teachers and students; the extensive AMERICOM Government Services (AGS) Exhibit Center; and greatly expanded programs for young, up-and-coming "new generation" space professionals.
The National Space Symposium's top allure to attendees, exhibitors, sponsors, and speakers is as a venue for networking and conducting meaningful business. Online registration and more information, including agenda, speakers, and exhibitors, are available at www.NationalSpaceSymposium.org.
26th National Space Symposium Sponsors
Sponsors of the 26th National Space Symposium include AGI, AMERICOM Government Services (AGS), ARES Corporation, Astrium North America, Astrotech Space Operations, ATK, AVIATION WEEK, Ball Aerospace & Technologies Corp., Boeing, Booz Allen Hamilton, Cisco Systems, Inc., Cobham, CSC, Defense Systems, General Dynamics, GMV, IBM, Intelsat General Corporation, International Space University, Lockheed Martin, Maui Economic Development Board, Northrop Grumman, Orbital, Pratt & Whitney Rocketdyne, Raytheon, SAIC, Space Generation Advisory Council, Space News, Space Systems/Loral, SpaceX, Stellar Solutions, United Launch Alliance, and United Space Alliance.
Additional sponsorship opportunities are available; interested companies should contact [email protected]. To be put on the waiting list for exhibit space, contact [email protected].
---
Posted in Space Foundation Press Releases