Report from Washington, D.C.
---
Task Force Website Seeks Comments
Written by: developer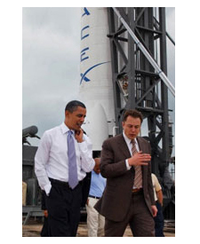 The Task Force on Space Industry Workforce and Economic Development has launched an interactive website to encourage public comment on ways to promote economic growth and sustainability in Florida's Space Coast region as it adapts to changes in America's space program. 
According to NASA, the site offers "information about the work the administration is doing to create jobs in the region by fostering a more supportive entrepreneurial ecosystem."
On May 3, President Brack Obama issued a presidential memorandum establishing the task force, which is co-chaired by NASA Administrator Charles Bolden and Secretary of Commerce Gary Locke. The task force's mission is to "develop an interagency strategic action plan to enhance economic development along Florida's Space Coast and related areas." The task force will review all input.
Comments can be shared at www.nasa.gov/spacecoasttaskforce.
Pictured: President Barack Obama touring Kennedy Space Center with SpaceX CEO and CTO Elon Musk
This article is part of Space Watch: July 2010 (Volume: 9, Issue: 7).
---
Posted in Report from Washington, D.C.