Spotlight
---
Comfort Enhancing Technology From Space
Written by: developer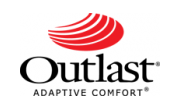 Outlast® technology, originally designed for use in space, is now also helping to enhance the comfort of law enforcement officers and golfers.  
Outlast® technology is now exclusively available in select NIJ .06-certified ballistic systems sold by Point Blank Body Armor and Protective Apparel Corporation of America. With its thermo-regulating properties, Outlast® technology gives law enforcement comfort benefits within their concealable carriers. Micro-dernier lining in these carriers help to regulate an officer's body temperature, reduce moisture and buffer against temperature swings in all environments.
The Vision® body armor system is considered one of the lightest weight ballistic systems available. The carrier was engineered to combine bullet-stopping power with thinness and flexibility. Similarly, the Blue SteelTM carrier is a high-performance body armor system and has the same advanced ballistic capabilities as Vision®, coupled with a tri-level temperature and moisture control package to keep wearers cool and dry. Officers across the nation from agencies such as the Buffalo Police Department, Texas Department of Public Safety, San Antonio Police Department, Baton Rouge Police Department, Idaho State Police, Utah Highway Patrol, Indianapolis Metro Police Department and more, are wearing the Vision® and Blue SteelTM body armor systems because of their comfort, performance, and life saving features.
Outlast® also introduces new licensee Callaway Golf Company, which has incorporated the temperature regulating and moisture reducing benefits of Outlast® technology into its men's and women's Hyperbolic footwear. Outlast® technology continually absorbs heat when too much is created, diminishing the amount of moisture present in the footwear. This continuous cycle keeps the feet dry and comfortable, which decreases the chance for blisters and overheating. Constant movement in a closed environment, like a golf shoe, typically generates extra heat and more perspiration, resulting in blistering and odor. With Outlast® technology, footwear products reduce perspiration by as much as 44 percent, helping feet stay drier and more comfortable.
Outlast® Tecnologies, Inc., is a Space Foundation Space Certification Program Corporate Patrons Partner.
 
This article is part of Space Watch: August 2010 (Volume: 9, Issue: 8).
---
Posted in Spotlight