Spotlight
---
Shepard Award Winner to Speak At KSC
Written by: developer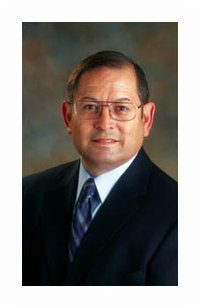 2009 Alan Shepard Technology in Education Award recipient Rick Soria, who is an assistant principal at Choctawhatchee (Florida) High School and co-chairman of Okaloosa County's Engineers for America program, will be one of five speakers at the 25th anniversary ceremony to honor the seven astronauts who died in the Challenger Space Shuttle explosion. The nationally televised event is Jan. 28, 2011, at the Kennedy Space Center.
According to Stephen Feldman, president and CEO of The Astronaut's Memorial Foundation, which is helping organize the event and is a partner with the Space Foundation and NASA in presenting the Shepard Award, Soria was selected to speak both because of his dedication to technology and his extraordinary public speaking skills.
After Feldman met Soria and heard his Shepard Award acceptance speech at the Opening Ceremony of the 25th National Space Symposium in March, 2009, he said that he "knew he was perfect for the Challenger ceremony."
The Alan Shepard Technology in Education Award is given to educators who develop programs with a focus on aerospace and aeronautics, such as the Engineers for America program that Soria helped start in local schools in 2006. The program is designed to increase students' interest in science, technology engineering and math (STEM).
The 2011 Alan Shepard Technology in Education Award will be presented on April 11, 2011, at the 27th National Space Symposium in Colorado Springs, Colo. For information about the Symposium, click here. For information on the Shepard Award, click here.
This article is part of Space Watch: December 2010 (Volume: 9, Issue: 12).
---
Posted in Spotlight