Report from Headquarters
---
Space Foundation Welcomes New Corporate Members
Written by: developer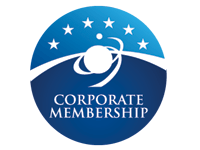 The Space Foundation's cadre of corporate member companies has grown to 112.
Corporate members choose from one of five levels of membership - which offer an increasing number of benefits per level. Key benefits include:
Frequent public/industry recognition as a Space Foundation corporate member
Notification of significant marketing and business development opportunities
Information and reports on important space issues, including analyses of major legislation
Complimentary copies of The Space Report: The Authoritative Guide to Global Space Activity
Notification of unique business and networking opportunities with other members
Preferential treatment for meeting room space and hotel room allocation at the National Space Symposium
Lower rates when contracting for exhibit space at Space Foundation symposia and events
Complimentary registration(s) to the National Space Symposium 
Invitations for the company's president or his/her designated representative(s) to attend the Corporate Partnership Dinner, Corporate Member Recognition Reception, Congressional Breakfast, the Senior Executive Forum and several other special events at the National Space Symposium
Space Foundation corporate members tend to be companies and organizations that are involved in commercial and entrepreneurial space ventures, those engaged in the satellite and telecommunications industry, and a select few from non-aerospace sectors working on space-enabled or space-themed projects, including companies that produce and market Certified Space Technologies(TM). The Space Foundation also has partnerships with local, state, national and international economic development organizations that view the space industry as a part of their current constituencies or as one of their target sectors.
Companies that have recently become corporate members include:
Bigelow Aerospace
www.bigelowaerospace.com
Robert T. Bigelow, president and founder
Bigelow Aerospace was created with the express purpose of revolutionizing space commerce via the development of affordable, reliable and robust expandable space habitats for national space agencies and corporate clients. In 2006 and 2007, the company launched orbiting prototypes - Genesis I and Genesis II - and is now working on new generation spacecraft. Using patented expandable habitats, Bigelow plans to greatly exceed the usable space of the International Space Station at a fraction of the cost. Expected uses for Bigelow Aerospace's expandable modules include microgravity research and development and space manufacturing. Bigelow Aerospace will be exhibiting at the 27th National Space Symposium, the first time the company has been a Symposium exhibitor.
Blue Ridge Networks
www.blueridgenetworks.com
John Higginbotham, executive chairman
Michael Fumai, president and chief executive officer
Headquartered in Chantilly, Va., Blue Ridge Networks (BRN) offers computer and network security products and services based on technologies developed in-house that deliver protection from Malware, Data Leakage and Network Attacks. For more than15 years, BRN has supported high-value cyber targets across the globe. BRN will provide a full-range of cyber security solutions and coordinate, configure and deploy its cyber security products to the Space Foundation's new headquarters in Colorado Springs and offices in Washington, D.C., and to all employees and board members. BRN is also sponsoring the Cyberspace Center at the 27th National Space Symposium.
Dynetics
www.dynetics.com
Dr. Marc Bendickson, chief executive officer
David A. King, executive vice president
Dynetics delivers high-quality, high-value engineering, scientific and information technology solutions to customers within the U.S. government and to a range of other market segments providing solutions to their technical challenges in intelligence, missiles, aviation, cyber and space. With headquarters in Huntsville, Ala., and offices throughout the United States, the company has more than 1,300 employees.
Griffin Communications Group
www.GriffinCG.com
Gwen Griffin, president and chief executive officer
Jeff Carr, senior vice president of Aerospace Communications
Griffin Communications Group is a full-service marketing communications firm, providing strategic communications solutions for civil, commercial and military aerospace businesses. Along with other aerospace clients, the team at Griffin works with the leadership of the Coalition for Space Exploration to develop strategies and tactics that move the needle in public awareness and knowledge of America's efforts in space exploration. The coalition is an active group of aerospace industry businesses and non-profit organizations that educates and advocates to the public and Congress on the value of space exploration to help ensure the United States remains a leader in space, science and technology.
El Pomar
www.elpomar.org
William J. Hybl, chief executive officer and chairman
The El Pomar Foundation, one of the largest and oldest private foundations in the Rocky Mountain West, contributes approximately $20 million annually through grants and programs to support Colorado non-profit organizations involved in health, human services, education, arts and humanities and civic and community initiatives. Spencer and Julie Penrose founded El Pomar in 1937. As one of the first supporters of the Space Foundation nearly 30 years ago, El Pomar has continually contributed to the growth of the organization. In 2002, with the support of GE Johnson Construction Co. and others, El Pomar helped the Space Foundation acquire the current headquarters property. More recently, El Pomar Foundation and its internal Ackerman Fund, granted a total of $610,000 toward the purchase of the Space Foundation new headquarters building.
Hewlett Packard
www.hp.com/go/federal
Léo Apotheker, president and chief executive officer
Frank McNamara, HP Consulting Services, Public Sector
Hewlett Packard (HP) is one of the world's largest information technology companies, operating in nearly every country. HP specializes in developing and manufacturing computing, data storage and networking hardware, designing software and delivering services. Major product lines include personal computing devices, enterprise servers and related storage devices, as well as a diverse range of printers and other imaging products. In late 2010, HP landed a contract to provide NASA with computers, peripherals and other hardware valued at as much as $2.5 billion over 10 years, putting the space agency's computers under HP's management.
Quantech Services Inc.
www.quantechserv.com
Ron Lombard, chief executive officer
Angela Groves, vice president, Western Region
Quantech Services offers solutions for project management, integrated logistics, information technology, engineering services, budget formulation/execution, financial accounting, cost estimating and analysis, model development/implementation, cost benefit analysis, earned value management and analysis, schedule management, contract management/reconciliation/closeout, congressional reporting, acquisition support services, activity based costing/management, client relationship management and space and missile center acquisition support, technical support and meteorological support. This includes a broad range of consulting products and services in the areas of program management, engineering services, cost and financial management to the Department of Defense (DoD) and other government clients. Quantech Services supports its government clients in the development of aircraft, space, transportation, information and communication systems through modeling and simulation services and through systems implementation, integration and management.
QinetiQ North America
www.qinetiq-na.com
Duane Andrews, chief executive officer
Paul Lockhart, senior vice president, Aerospace Group
QinetiQ is an international defense and security technology company that provides technology-based products and services to government and commercial customers. The QinetiQ Group includes QinetiQ EMEA, which provides consultancy, managed services and technology solutions in Europe, the Middle East and Australasia, and QinetiQ North America, which provides technology solutions, systems engineering and mission solutions. In North America, QinetiQ works with homeland security agencies including the U.S. Customs Service and Customs & Border Protection and the U.S. Department of Homeland Security. QinetiQ works in close support of governmental organizations responsible for countering terrorism, providing law enforcement and ensuring the integrity of the UK's critical national infrastructure, including the global transportation and logistical supply chain and crucial security requirements.
For more information on corporate membership, click here.
This article is part of Space Watch: March 2011 (Volume: 10, Issue: 3).
---
Posted in Report from Headquarters