Report from Headquarters
---
Teacher Liaison Maureen Adams Wins Award
Written by: developer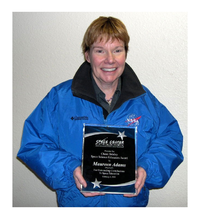 Space Foundation Teacher Liaison Maureen Adams has been awarded the Space Center Houston third annual Cherri Brinley Space Science Educator Award. The award was presented at the Space Exploration Educators Conference (SEEC) in Houston last month. Cherri Brinley was a Houston-area educator and space enthusiast who shared her passion for space science with students and fellow educators. She died of cancer in 2008.
Adams is principal of West Ward Elementary School in Killeen, Texas, and helps teach fifth grade science. She was selected as a Space Foundation Teacher Liaison in 2008.
"It's no surprise that Maureen received this prestigious award," said Bobby Gagnon, Space Foundation Teacher Liaison program coordinator. "Her enthusiasm and professionalism exemplify the qualities we look for in our Teacher Liaisons."
"I greatly enjoy and appreciate being a Teacher Liaison," said Adams, "because I am able to network with a highly skilled group of teachers. There are also great resources available through the Space Foundation for Teacher Liaisons. I am honored to be part of such a great group of educators."
Space Foundation Teacher Liaisons serve as active links between the Space Foundation, NASA and their schools and school districts. This influential role provides an honored few educators numerous benefits and privileges, builds resumes and influences education at a national level.
Learn more about the Space Foundation Teacher Liaison program here.
Pictured: Space Foundation Teacher Liaison Maureen Adams with her award from Space Center Houston. 
This article is part of Space Watch: March 2011 (Volume: 10, Issue: 3).
---
Posted in Report from Headquarters