Report from Headquarters
---
Corporate Partnership Dinner Focuses on Education
Written by: developer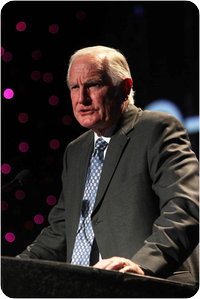 Education advocate and retired Intel Chief Executive Officer/Chairman Craig R. Barrett, Ph.D., spoke about the crisis in science, technology, engineering and mathematics (STEM) education and potential solutions at the 27th National Space Symposium Corporate Partnership Dinner on April 12, 2011.
The event, which recognized the companies and organizations that support, sponsor and partner with the Space Foundation, focused on how the Space Foundation's partners support and improve STEM education to build a more proficient space workforce. Lockheed Martin co-sponsored the dinner, which also featured a video showcasing Space Foundation partners' education efforts.
Barrett, a leading advocate for improving education in the U.S. and around the world, is a vocal spokesman for the value technology can provide in raising social and economic standards globally. The chairman of the board of Intel Corporation from 2005 to 2009, Barrett has broad experience in both industry and academia. During his speech, he drew parallels to how the space program has languished in the U.S. to the nation's failure to make necessary improvements in education.
"We've appproached reform by tweaking around the edges," he said. "We've let politics, unions, complacency, changing priorities, lack of attention to international competitiveness and standards … we've let all of these issues stymie our efforts."
He gave five recommendations for improving education:
Manage education at the state, rather than national, level
Compete with the rest of the world
Competition among schools (vouchers and charter schools)
Great teachers who are experts in their subject matter
Private sector engagement
To see a video of the Corporate Partnership Dinner and to access videos of other key 27th National Space Symposium events, click here.
Pictured: Dr. Craig Barrett, featured Corporate Partnership Dinner speaker.
This article is part of Space Watch: May 2011 (Volume: 10, Issue: 5).
---
Posted in Report from Headquarters