Report from Headquarters
---
Space Foundation Teaches STEM in Charles County
Written by: developer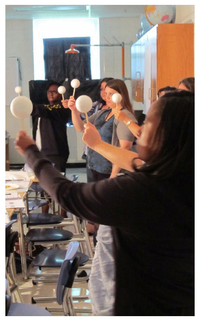 For the fifth consecutive year, the Space Foundation is providing teacher professional development courses for Charles County (Md.) Public Schools educators. This summer the Space Foundation is teaching seven Space Across the Curriculum courses in three weeks in Charles County.
The courses include:
Earth Systems Science: Our Earth Revealed
PreK-2 Early Childhood Space Exploration
Biological and Physical Research for Long Term Space Travel
Lunar/Mars Exploration and Base Construction
Space History and the Future of Spaceflight
Astronomy Principles for the Classroom: Kinesthetic Astronomy
Space Technologies in the Classroom: Robotics and Nanotechnology
The PreK-2 teachers learned lessons to help very young children grasp the basic principles of science, technology, engineering and mathematics (STEM) using household items and children's favorite foods. Arin Ashton-Bonner attended the "PreK-2 Early Childhood Space Exploration" course and said about the class,"I learned so much this week. I can't wait to use and share the activities, technology and knowledge with my students."
Click here to learn more about Space Foundation education programs.
Pictured: Teachers from Charles County (Md.) Public Schools work on a class project in the Space Foundation Space Across the Curriculum course, "PreK-2 Early Childhood Space Exploration."
This article is part of Space Watch: August 2011 (Volume: 10, Issue: 8).
---
Posted in Report from Headquarters