Space Foundation Press Releases
---
Space Foundation to Bring Astronaut Col. Michael Good to Patriots' Festival
Written by: developer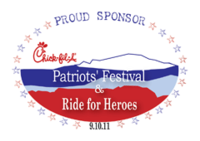 COLORADO SPRINGS, Colo. (Aug. 30, 2011) — The Space Foundation will bring a true American hero to the Chick-fil-A Patriots' Festival and Ride for Heroes to be held at Glen Eyrie Castle in Colorado Springs on Saturday, Sept. 10. The Space Foundation is a sponsor of the event and has arranged for NASA astronaut Col. Michael T. Good, USAF (Retired), to sign autographs at the Space Foundation booth from 10:45 a.m.-11:45 a.m. before presenting awards at a ceremony that begins at noon.
About the Chick-fil-A Patriots' Festival and Ride for Heroes
Combining three bicycle rides with a free family event that remembers September 11, 2001, the Chick-fil-A Patriots' Festival and Ride for Heroes honors many heroes and benefits police, firefighter and military charities. Registration fees for the bike rides and some proceeds from food sales will benefit Home Front Cares, The Firefighters Fund and The Peace Officers Memorial.
The Ride for Heroes begins at 8 a.m. at Glen Eyrie, 3820 N. 30th Street, with registration starting at 7 a.m. The Patriots' Festival is free and begins at 10 a.m. at Glen Eyrie, offering a full day celebration of hometown heroes, with music and entertainment, plus demonstrations by the local fire, paramedic, police and military community. The Festival wraps up at 4 p.m.
Parking for the event will be at Verizon Wireless, 2424 Garden of the Gods Road, with shuttle busses to Glen Eyrie. See information about the bicycle ride registration fees, Festival entertainment and parking instructions at www.patriotsfestival.com.
About Good's NASA Missions
Col. Michael T. Good served his country in the United States Air Force, logging over 3,000 hours in more than 30 different aircraft. He was selected by NASA as a mission specialist in July 2000. He served on the crew of STS-125, the final Space Shuttle mission to the Hubble Space Telescope, and on the crew of STS-132 to the International Space Station. He has logged 25 days in space and nearly 30 hours on four spacewalks.
About the Space Foundation
The Space Foundation is a global, nonprofit organization and the foremost advocate for all sectors of the space industry – civil, commercial, military and intelligence. Founded in 1983, the Space Foundation is a leader in space awareness activities, educational programs that bring space into the classroom and major industry events, including the National Space Symposium, all in support of its mission "to advance space-related endeavors to inspire, enable and propel humanity." An expert in all aspects of the global space industry, the Space Foundation publishes The Space Report: The Authoritative Guide to Global Space Activity and provides three indices that track daily performance of the space industry. Through its Space Certification and Space Technology Hall of Fame® programs, the Space Foundation recognizes space-based technologies and innovations that have been adapted to improve life on Earth. Headquartered in Colorado Springs, the Space Foundation conducts research and analysis and government affairs activities from its Washington, D.C., office and has field representatives in Houston, Texas, and Cape Canaveral, Fla. For more information, visit www.SpaceFoundation.org. Follow us on Twitter, Facebook and LinkedIn, and read Space Watch.
# # #
 
---
Posted in Space Foundation Press Releases