Spotlight
---
Student Art Contest to Launch Soon
Written by: developer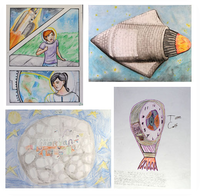 Watch the Space Foundation website – www.SpaceFoundation.org – for an announcement later this month with details of how to enter the Space Foundation Student Art Contest. The theme for 2012 is Space is Infinite – Explore!
Here are some basic details; full details will be available Sept. 12:
The contest is open to students in PreK-12th grade from thoughout the world
All entries must be submitted and sponsored by teachers for their students
Deadline will be Jan. 31, 2012
Winners will be announced in early 2012 and will be invited to an awards ceremony at the 28th National Space Symposium, to be held April 16-19, 2012, at The Broadmoor Hotel in Colorado Springs, Colo.
The grand prize winners will be announced at the ceremony
Entries will be judged in four grade categories:
PreK-2nd 
3rd-5th
6th-8th
9th-12th
The contest will accept up to one entry per person in three categories:
Drawing/Sketching
Painting
Multimedia
The contest will officially launch Sept. 12.
Pictured: Some of the winning artwork from the 2011 Space Foundation Student Art Contest
This article is part of Space Watch: September 2011 (Volume: 10, Issue: 9).
---
Posted in Spotlight