Space Foundation Press Releases
---
Ball Aerospace & Technologies Corp. to Sponsor 28th National Space Symposium Exhibit Center
Written by: developer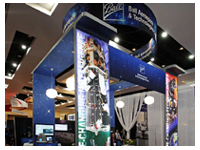 COLORADO SPRINGS, Colo. (Oct. 12, 2011) — Ball Aerospace & Technologies Corp. will sponsor the 28th National Space Symposium exhibit center with an impressive and comprehensive array of the latest space technology, equipment and services. The Ball Aerospace Exhibit Center will now include the new Ball Aerospace Exhibit Center Pavilion, located adjacent to the Carriage Museum at The Broadmoor Hotel in Colorado Springs, Colo. The new exhibit space will offer better access and exposure for every Symposium exhibitor.
With more than 9,000 expected participants, the 28th National Space Symposium is the premier annual gathering of the global space community. Scheduled for April 16-19, the Symposium brings together all sectors of the space industry to highlight accomplishments and address opportunities and issues facing the global space community today.
"Now more than ever our exhibitors are realizing the importance of their visibility at the National Space Symposium," said Space Foundation Chief Executive Officer Elliot Pulham. "We appreciate their support." 
The Ball Aerospace Exhibit Center will open Monday evening, April 16, immediately following the Symposium's opening ceremony. The exhibits will be open through Thursday, April 19, for Symposium registrants, invited guests, uniformed military and select groups of teachers and students.
To secure exhibit space at the 28th National Space Symposium in the Ball Aerospace Exhibit Center, contact [email protected].
Exhibit Center Sponsor
Supporting critical missions of important national agencies such as the Department of Defense, NASA, NOAA and other U.S. government and commercial entities, Ball Aerospace & Technologies Corp. develops and manufactures spacecraft, advanced instruments and sensors, components, data exploitation systems and RF solutions for strategic, tactical and scientific applications.
For more information on Ball Aerospace & Technologies Corp. see www.ballaerospace.com/.
Super Early Bird Rate Now Available
The Space Foundation is offering a Super Early Bird rate with up to $500 in savings for industry attendees who register before Jan. 13, 2012. 28th National Space Symposium details, including the initial agenda, how to get the Super Early Bird rate and how to register securely online can be found at www.NationalSpaceSymposium.org.
28th National Space Symposium Co-Sponsors
Confirmed co-sponsors include: Analytical Graphics, Inc. (AGI); ATK; Ball Aerospace & Technologies Corp.; Blue Ridge Networks; Maui Economic Development Board (MEDB); Moog; Northrop Grumman; Pratt & Whitney Rocketdyne; Raytheon; SES Government Solutions. Aviation Week and Space News are the official media partners. Sponsorship information can be found at: www.NationalSpaceSymposium.org.
About the Space Foundation
The foremost advocate for the space industry and an expert in all aspects of space, the Space Foundation is a global, nonprofit leader in space awareness, educational programs that bring space into the classroom and major industry events, including the National Space Symposium, all in support of its mission "to advance space-related endeavors to inspire, enable and propel humanity." The Space Foundation publishes The Space Report: The Authoritative Guide to Global Space Activity and provides three indices that track daily performance of the space industry. Through its Space Certification and Space Technology Hall of Fame® programs, the Space Foundation recognizes space-based technologies and innovations that have been adapted to improve life on Earth. Founded in 1983 and headquartered in Colorado Springs, the Space Foundation conducts research and analysis and government affairs activities from its Washington, D.C., office and has a field office in Houston, Texas. For more information, visit www.SpaceFoundation.org. Follow us on Twitter, Facebook, and LinkedIn, and read about the latest space news and Space Foundation activities in Space Watch.
#  #  #
---
Posted in Space Foundation Press Releases