Spotlight
---
Long Slated for National Space Symposium
Written by: developer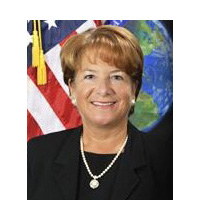 For the first time at a National Space Symposium, Letitia A. Long, director of the National Geospatial-Intelligence Agency,has joined the growing roster of high-level industry, military, civil space and academic speakers at the premier gathering of space professionals, the Space Foundation's 28th National Space Symposium, which is set for April 16-19 at The Broadmoor Hotel in Colorado Springs, Colo. Long will be a featured speaker on Tuesday, April 17, the first full day of the program.
About Long
Long was appointed director of the National Geospatial-Intelligence Agency in 2010. Previously, she was deputy director of the Defense Intelligence Agency (DIA); deputy under secretary of defense for intelligence (Policy, Requirements and Resources); deputy director of naval intelligence; and was the Central Intelligence Agency's executive director for intelligence community affairs. She joined DIA as the deputy director for information systems and services and was DIA's first chief information officer. She was on rotational assignment from the Office of Naval Intelligence (ONI) to the DIA as military intelligence staff director; and was selected into the Senior Intelligence Executive Service where she was director, requirements, plans, policy and programs, for the Navy N2 staff, as well as the ONI director of resource management. Long earned a Bachelor of Science degree in electrical engineering from Virginia Polytechnic Institute and State University, Blacksburg, and a Master of Science degree in mechanical engineering from the Catholic University of America, Washington, D.C.
About the National Geospatial-Intelligence Agency
Based in Arlington, Va., the National Geospatial-Intelligence Agency (NGA) is part of the Department of Defense (DoD) and has the primary mission of collecting, analyzing and distributing geospatial intelligence (GEOINT) in support of national security. 
To register for the 28th National Space Symposium, go to www.NationalSpaceSymposium.org/register. 
This article is part of Space Watch: December 2011 (Volume: 10, Issue: 12).
---
Posted in Spotlight