Spotlight
---
Space Foundation Supports STEM in Colorado
Written by: developer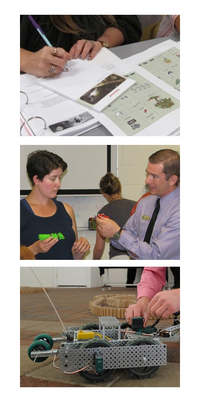 The Space Foundation has a busy lineup of education programs during January, bringing science, technology, engineering and mathematics (STEM) activities to school districts around the state of Colorado. The outreach includes two approaches:
Providing professional development for teachers by sharing hands-on STEM-related activities that are immediately transferrable to the classrooom 
Working directly with children through the Space Foundation STARS program to enrich a school's exisitng STEM lessons
On Jan. 5, the Space Foundation will present activities focused on thermal protection for students at Cheyenne Mountain Elementary School in Colorado Springs, Colo. This STARS lesson was developed by the Space Foundation as a science enrichment program for students of all ages. STARS – science, technology and academic readiness for space – activities are custom-designed by the Space Foundation to fit students' needs and each individual school's schedule and educational requirements. All programs involve hands-on, inquiry-based activities and can be adjusted for for one day or weekly workshops.
The Space Foundation will also present six weeks of STARS activities starting in January at Century Elementary in Aurora, Colo. These activities will focus on astronomy and robotics.
Educator activites during January will be concentrated on teachers in Colorado's Trinidad School District #1 and McClave School District, where Space Foundation space education specialists will share hands-on science activities appropriate for various grade levels.
Later this month the Space Foundation will select its 2012 flight of Teacher Liaisons. Teachers in this elite program serve as advocates for space science education and use Space Foundation-provided training and resources to further integrate space curriculum into the classroom. The program is in its tenth year with more than 250 active participants nationwide. The application period for the Space Foundation Teacher Liaison program closes every December.
Current Teacher Liaisons are eligible to participate in a pilot program this month when the Space Foundation launches a new Space Across the Curriculum course for teachers, "Meteorology and Space Weather." This pilot program is limited to 25, so is only accepting Teacher Liaisons. The program will be held from 4:30 – 8:00 p.m. on Jan 27 and from 9 a.m. to 5 p.m. on Jan. 28 at the Space Foundation Discovery Institute in Colorado Springs.
Learn more about Space Foundation education programs at www.SpaceFoundation.org/education or by calling (800) 691-4000.
This article is part of Space Watch: January 2012 (Volume: 11, Issue: 1).
---
Posted in Spotlight