Space Symposium
---
Dozens of New Exhibitors Join 28th National Space Symposium
Written by: developer
The Space Foundation's 28th National Space Symposium launches a significant new approach to exhibiting the event's state-of-the-art space technologies and services. Widely known as the foremost space policy and program forum for the global space community, the 28th National Space Symposium will be held April 16-19 at The Broadmoor Hotel in Colorado Springs, Colo.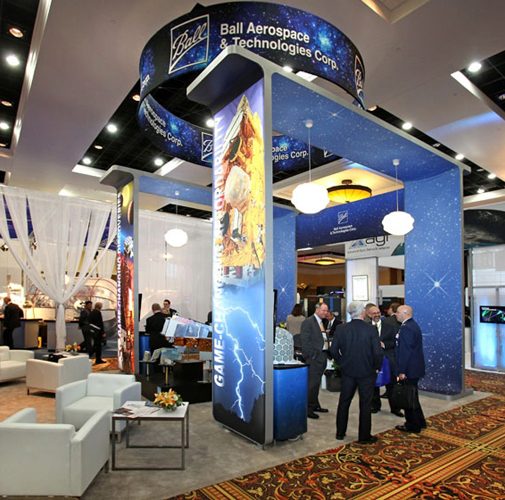 This year's event introduces the new Ball Aerospace Exhibit Center Pavilion, featuring exhibits from around the world, including the Japan Aerospace Exploration Agency, the DLR German Aerospace Center and Canada's Aerospace Community, plus exhibits by universities, businesses and the military. The new Pavilion is in addition to the expansive Ball Aerospace Exhibit Center in Broadmoor Hall.
Adding to the excitement of this year's Symposium are 38 new exhibitors participating in this premier annual space event for the first time.
For information about exhibiting at the 28th National Space Symposium, contact Rhonda Truett at [email protected] or +1.719.576.8000.
New Symposium exhibitors include:
Air Force Reserve
Alaska Aerospace Corporation
Aldec, Inc.
Astro-und Feinwerktechnik Adlershof GmbH
BRPH Architects-Engineers
Canada's Aerospace Community
Cascade Tek
Command & Control Technologies Corp
Composite Technology Development, Inc.
Compunetix, Inc.
Dunmore Corporation
Embry-Riddle University
Extron Electronics
Flotron, Inc.
Fluor Corp
Geospatial Intelligence Forum
GlobalAOC
Japan Aerospace Exploration Agency (JAXA)

Kansas Cosmosphere & Space Center
LeFiell Manufacturing Company
Magnolia High-Performance Epoxy
Martinez & Turek, Inc.
National Space Grant & Fellowship Program
Omnetics Connector Corporation
Operationally Responsive Space Office
Sandia National Laboratories
Satnews
Scalable Network Technology
Solidyn Solutions, Inc.
Spacecraft Technology Expo
STAR-Dundee, LTD
TDK-Lambda America
T.E. Connectivity
Telecomunnication Systems, Inc.
The SI
The Space Store
TouchTable, Inc.
University of North Dakota — Dept of Space Studies
This article is part of Space Watch: March 2012 (Volume: 11, Issue: 3).
---
Posted in Space Symposium