Space Foundation Press Releases
---
Rocky Mountain PBS and Space Foundation Present: Superstars of Space and Science with Dr. Neil deGrasse Tyson
Written by: developer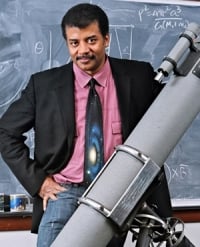 Colorado Springs, Colo.(April 4, 2012) – Join Rocky Mountain PBS and the Space Foundation for a remarkable opportunity to share the company of some of the world's greatest scientific minds.
This special joint fundraiser takes place on April 19 at the Space Foundation's 28th National Space Symposium, to be held at The Broadmoor Hotel in Colorado Springs, Colo. A $100 ticket includes:
Entrance to the 28th National Space Symposium Ball Aerospace Exhibit Center and  Ball Aerospace Exhibit Center Pavilion
Seating for one at the Symposium's panel discussion "Mega Minds – Leading Scientists Discuss the Future of Space Exploration," moderated by Bill Nye the Science Guy®
A private reception with Dr. Neil deGrasse Tyson, director of the Hayden Planetarium, author and host of the PBS program NOVA scienceNOW
How to Purchase Tickets
Tickets are available online at www.rmpbs.org.
About the 28th National Space Symposium
The Space Foundation's National Space Symposium is the premier gathering of the global space community, featuring more than 100 speakers, the expansive Ball Aerospace Exhibit Center with a new Pavilion this year, a fabulous opening ceremony featuring the Colorado Springs Philharmonic, presentation of prestigious Space Foundation awards, the popular Space Technology Hall of Fame® dinner, and special programs for educators, students and young space professionals.
About Neil deGrasse Tyson
Neil deGrasse Tyson was born and raised in New York City, where he was educated in the public schools through his graduation from the Bronx High School of Science. Tyson went on to earn his BA in Physics from Harvard and his PhD in Astrophysics from Columbia. Tyson's professional research interests are broad, but include star formation, exploding stars, dwarf galaxies, and the structure of our Milky Way. He has served on commissions that studied the Future of the U.S. Aerospace Industry and the Implementation of the United States Space Exploration Policy, dubbed the "Moon, Mars, and Beyond" commission. He is the author of dozens of professional publications and 10 books, including his memoir, The Sky is Not the Limit: Adventures of an Urban Astrophysicist and Origins: Fourteen Billion Years of Cosmic Evolution, co-written with Donald Goldsmith. For five seasons, beginning in the fall of 2006, Tyson appeared as the on-camera host of NOVA ScienceNOW.
About Rocky Mountain PBS
Each week, nearly 900,000 people throughout Colorado turn to Rocky Mountain PBS to discover inspiring local, national and international programming; find diverse viewpoints; score front row center seats to world-class performances; and experience lifelong learning opportunities.
Rocky Mountain PBS celebrates its 56th anniversary on the air this year. The network began in Denver in 1956 as Colorado's first public television station. It is now Colorado's only statewide television network, with stations in Denver (KRMA), Pueblo/Colorado Springs (KTSC), Steamboat Springs (KRMZ), Grand Junction (KRMJ) and Durango (KRMU). To learn more, visit www.rmpbs.org.
About the Space Foundation
The foremost advocate for the space industry and an expert in all aspects of space, the Space Foundation is a global, nonprofit leader in space awareness, educational programs that bring space into the classroom and major industry events, including the National Space Symposium, all in support of its mission "to advance space-related endeavors to inspire, enable and propel humanity." The Space Foundation publishes The Space Report: The Authoritative Guide to Global Space Activity and provides three indexes that track daily performance of the space industry. Through its Space Certification and Space Technology Hall of Fame® programs, the Space Foundation recognizes space-based technologies and innovations that have been adapted to improve life on Earth. Founded in 1983 and headquartered in Colorado Springs, the Space Foundation conducts research and analysis and government affairs activities from its Washington, D.C., office and has a field office in Houston, Texas. For more information, visit www.SpaceFoundation.org. Follow us on Facebook, LinkedIn and Twitter, and read about the latest space news and Space Foundation activities in Space Watch.
# # # 
---
Posted in Space Foundation Press Releases