Space Foundation News
---
New Horizons Program Kicks Off in Fairbanks, Alaska
Written by: developer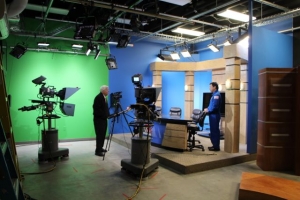 The Space Foundation's New Horizons education program kicked off today in Fairbanks, Alaska, with visits to Two Rivers Elementary School and Weller Elementary School and a news feature on local televevision station KTVF Channel 11.
The program, which is being presented by Space Foundation team members Special Advisor – Human Spaceflight and former NASA Astronaut Dr. Leroy Chiao, Space Education Specialists Elias Molen and Amy Robinson and Vice President – Marketing and Communications Janet Stevens, lasts all week. It includes visits to ten schools, a public "Meet and Greet" session with the Space Foundation team, presentations at local Kiwanis Club meetings, two Audience with an Astronaut Sessions at the Noel Wien Library, media interviews, a visit to the local Boys and Girls Club and a teacher professional development workshop.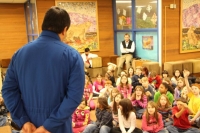 The week's worth of programs was made possible by Fairbanks Teacher Liaison Marci Ward, who raised community support for the program. 
The lead sponsors are Pogo Mine and the Fairbanks North Star Borough School District. Additional sponsors include BP, the Chena Kiwanis Club, Denali State Bank, the Fairbanks Economic Development Corp., the Fairbanks Kiwanis Club, Fountainhead Development, Inc., Fort Knox Gold Mine, Alpha Delta Kappa Sorority, Jeffrey and Kelly Brooks, Faith and Paul Walsh, Judy and Johne Binkley, Mary Binkley and Grace Minder.
To see photos, click here.
Pictured: Top, right, Dr. Leroy Chiao being interviewed by local TV station KTVF; bottom, left, Chiao speaks with students at Weller Elementary School.
---
Posted in Space Foundation News