Education
---
Space Foundation Director-Education Featured at STEMwise Conference
Written by: developer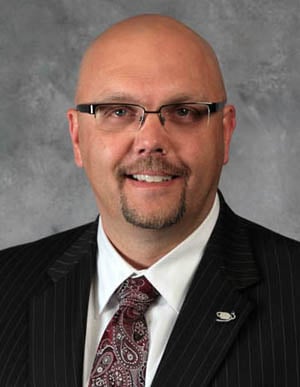 Space Foundation Director-Education, Bryan DeBates (pictured right) served as closing key-note speaker for the second annual STEMwise conference held in March in Sioux Falls, S.D., a two-day conference for teachers throughout North Dakota, South Dakota and western Minnesota.
Other speakers included:
Dr. Vince Bertram, president and chief executive officer of Project Lead the Way
Dr. Kristi Jean, Nanoscience Program Coordinator at the North Dakota State College of Science
Rich Rosen, visiting fellow for the Johns Hopkins School of Education
Sean Casey, filmmaker and stormchaser
Karen Kosiba, atmospheric scientist at the Center for Severe Weather Research
DeBates shared his experiences as a teacher and how they influenced his philosophy of education and his belief that STEM activities in the classroom need to be fun, engaging and relevant. He touched on his beginnings as a Title I math and reading teacher in Ipswich, S.D., where he taught both at the public school and at three neighboring Hutterite colonies.
"Working with students who were struggling in the classroom helped me realize that when students were engaged and having fun, they did their best learning," he said.
DeBates also told the story of an unsuccessful job interview at a school where the principal had told him, "…students should not be having fun in the classroom. They need to be learning."
DeBates said he realized later, "If that was the philosophy of that district, then I didn't want to be a part of it."
He went on to share many of the activities that he and his fellow 5th grade teachers conducted with their students while teaching at Timberwilde Elementary in San Antonio, Texas. DeBates explained how easy it was to incorporate fun projects into the classroom.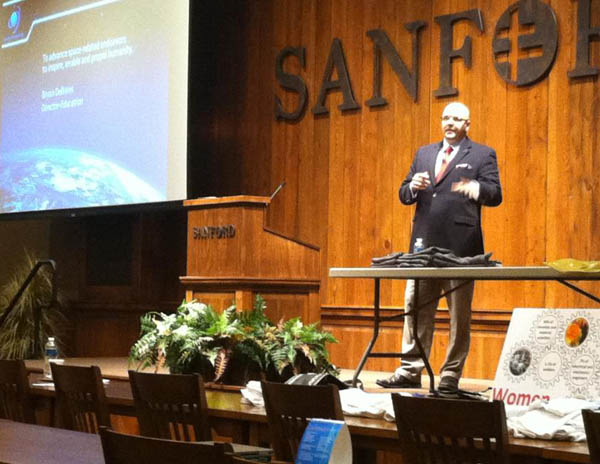 "The secret," he said, "was to take what you are already doing in your classroom, and find a way to put a fun twist on that lesson that is engaging and relevant to your students. The important thing to remember in designing these activities is to put the students into situations where they need to work in teams, communicate their ideas, problem solve and collaborate on solutions."
He challenged the teachers in the room to be role models for girls in STEM.
"This is an overlooked sector of STEM education, and as responsible educators we need to encourage girls in the STEM fields as much as possible."
DeBates commented that professional educators need to push through any trepidation because young students can pick up on those feelings. He encouraged female educators by saying, "to be a good female role model, you must show your young female students that you are confident."
"There isn't any magic program or strategy out there that will fix everything." DeBates concluded. "The only thing that will make a difference in your students' lives is you. Therefore, you must be passionate with what you do in the classroom."
Pictured above: DeBates speaks to educators at the second annual STEMwise conference.
This article is part of Space Watch: April 2013 (Volume: 12, Issue: 4).
---
Posted in Education