The View From Here
---
New Times, New Opportunities
Written by: developer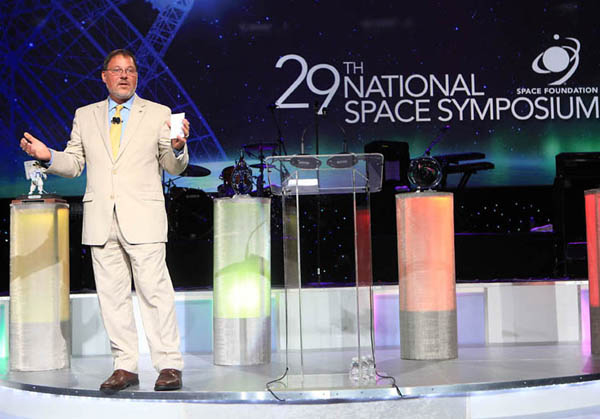 "A pessimist sees the difficulty in every opportunity; an optimist sees the opportunity in every difficulty." ― Winston Churchill
Even though I'm generally known to be a pretty optimistic guy, I don't mind telling you that my nerves were a bit frayed as the countdown clocked neared T-minus-zero for the 29th National Space Symposium. As you'll know by now if you attended the event, and as you can read in our post-Symposium report throughout this edition of Space Watch, this year's Space Symposium was one of our best ever, and a triumph over adversity.
We have many great customers, partners and supporters from all over the world to thank for that. Many of our colleagues had their best Space Symposium ever. Government participation was certainly different from years past, but total participation once again surged past the 9,000 participant mark.
There's already been a lot of analysis of why the Space Symposium was so successful this year, despite the many reasons it could have failed. You can read all about the event here in the pages of Space Watch and in our News Briefs on this website (you can even see photos and watch videos of the event). Harking back to Sir Winston's famous quote, I'd like to focus instead on the two great opportunities I see emerging for the Space Foundation as a result of the difficulties we confronted this year.
Stronger Education and Discovery Enterprise
The first opportunity we're focused on is the opportunity to build a stronger, more vibrant education and discovery enterprise.
Education is absolutely critical and foundational to our mission. And for many years the Space Symposium generated a significant part of the money required for us to provide world-class science, technology, engineering and mathematics (STEM) education programs for teachers and students. This year that was not the case. For the sake of the Symposium, we made a strategic decision this year to give away (or "comp") a huge block of registrations for our U.S. government customers. The upside was strong government participation. The downside was a huge hit in our ability to fund STEM education programs for the coming year.
What has been interesting is how this "difficulty" has provided the opportunity for us to have more direct conversations with our supporters about the value and importance of our education programs. And we're finding that people are much more interested in stepping up to help than we might have imagined.
A bit more than a year ago, we began marching in a new strategic direction to leverage our location, our spacious new headquarters, our outstanding teaching team, our expertise in curriculum and instruction and our terrific relationships with our industry partners with a plan to open an educational facility and Visitors Center. We were successful in the endeavor and, in October, opened the Northrop Grumman Science Center, featuring Science On a Sphere® (SOS) and the El Pomar Space Gallery. In February, we launched our Sphere SOS-based courses and have since introduced thousands of students to the wonders of our universe through this extraordinary teaching tool. This year, we've decided to accelerate the development of our Visitors Center, fielding instead an education-inspired Space Foundation Discovery Center, which has the Northrop Grumman Science Center at its heart and will eventually include a teaching auditorium, laboratories, classrooms, more exhibits and a Space Technology Hall of Fame®.
In the five months since the Northrop Grumman Science Center opened, we've hosted more than 6,000 visitors for educational and informative programs here at Space Foundation headquarters. Thanks to conversations we had in the margins of the 29th Space Symposium, interest has greatly increased, and more than a thousand students are booked to experience Sphere education programs with us in the next month alone.
Meanwhile, thanks to grants from the Boettcher Foundation and the Anschutz Foundation, we've been able to accelerate our development of Phase 2 of the Discovery Center. Our own board recently authorized additional investments from savings to further accelerate the build-out. We had terrific meetings with many corporate partners during the Symposium and hope to announce additional major sponsorships of Discovery Center facilities in the coming months.
This summer will be our first test of full-time operations at the center. From early June through mid-August we'll be offering a 10-week Summer of Discovery, with a different focus every week and special events certain to promote formal and informal education in the STEM and STEAM disciplines (STEAM adds an "A" for Arts). During the Summer of Discovery we'll be rolling out new exhibits of space artifacts loaned by our colleagues at the U.S. Space & Rocket Center in Huntsville. We'll be unveiling a purpose-built, high-tech, high-touch interactive exhibit on space imagery, sponsored and provided by our partners at DigitalGlobe. We'll be unveiling a previously top-secret, experimental spacecraft that's been donated to us (details to be announced). We'll be putting the Scott Carpenter Station on display and we'll be hosting our first loaned exhibit from NASA, a Space Shuttle showcase called Conquering LEO.
Propelled by a strong vision, our initiative to develop a world-class space education destination is gaining fuel and momentum because the difficulty of this year's Space Symposium created the opportunity for us to engage our partners and supporters much more deeply than ever before in our education mission.
The Space Foundation Discovery Center will fill a critical void locally. Despite Colorado's status as the second-largest space state in the nation, the Rocky Mountain State has never had a space "museum," as such. And despite the importance of high-tech in the local economy, Colorado Springs has never had a science or technology museum. With your support, the Space Foundation will now fulfill both those roles.
But our Discovery Center will be much more, because it is being built from the ground up with education at the core of its purpose. Distance delivery infrastructure will allow us to provide web-delivered education programs to teachers and students around the world. In addition to traditional web-based education models, we're engaged in ground-breaking work to use the Northrop Grumman Science Center to "sphere-cast" SOS lessons to other locations around the world.
There's no limit to where this can take us, and to the impact we can have on STEM education. This year's difficulty is providing a huge opportunity. Please join us in this critically important mission!
Reinventing the Premier Space Gathering
The second great opportunity we see arising from the difficulty in fielding the 29th Space Symposium is the opportunity to vastly accelerate our continuous process of re-inventing for the future a conference that is already the world's greatest space event.
Part of the secret to the Symposium's success in the current, budget- and travel-constrained environment, is the resiliency we have built in over the years by expanding well beyond the traditional, U.S. government markets. A decade ago we embarked upon programs to grow international participation, grow commercial and entrepreneurial participation, make the Symposium "ground zero" for the development of our next generation space leaders and to facilitate the greatest business-to-business marketing environment in the industry. This evolution has served the industry well and will continue.
But, we learned this year that there's even more we can do to increase the content, value and resiliency of the Space Symposium. These ideas include adding strong technical content tracks and programs, offering high-value classified sessions, providing more venues for face-to-face meetings, embracing adjacent industries and many other ideas that, for competitive reasons, I'd like to keep under my hat for now. (If you've got an idea for us, feel free to email me at [email protected].)
To be sure, the Space Foundation believes that it is critically important that government employees be able to travel and to attend meetings and conferences. We think the current environment is not rational and that definite steps must be taken to "decriminalize" government travel so that our colleagues in government can get back to doing their jobs properly. We will work and fight hard to seek a more productive environment going forward.
That being said, tight budgets for everything from space procurement to travel are going to be the new normal for a while. We learned a lot about how to offer our government colleagues a lot of value for very little money this year, and that difficulty is something we also regard as an opportunity as we formulate plans for the 30th Space Symposium.
The View From Here is that, as Churchill said, there's an opportunity in every difficulty. We're committed to capitalizing on these opportunities to advance space-related endeavors to inspire, enable and propel humanity.
This article is part of Space Watch: May 2013 (Volume: 12, Issue: 5).
---
Posted in The View From Here