Education
---
Nov 15 is Deadline for 2014 International Student Art Contest Entries
Written by: developer
Students from around the world, ages 3 to 18 years, are invited to enter the Space Foundation's 2014 International Student Art Contest, creating their own spaceship design for the contest theme "My Spaceship Looks Like…" All entries for the 2014 contest must be submitted by Friday, Nov. 15, 2013, noon Universal Time, (12:00 UTC), and be submitted online by the student's teacher. Prizes will be awarded by age category and the winners notified in early 2014.
For the 2013 contest, 4,700 entries were submitted, representing 45 countries, including 38 U.S. states and territories – the largest response since the contest began.
Awards and Categories
The Space Foundation will award a total of 25 prizes to 24 winners — first, second and third place for each age category, and a Space Foundation Achievement Award for the overall top entry.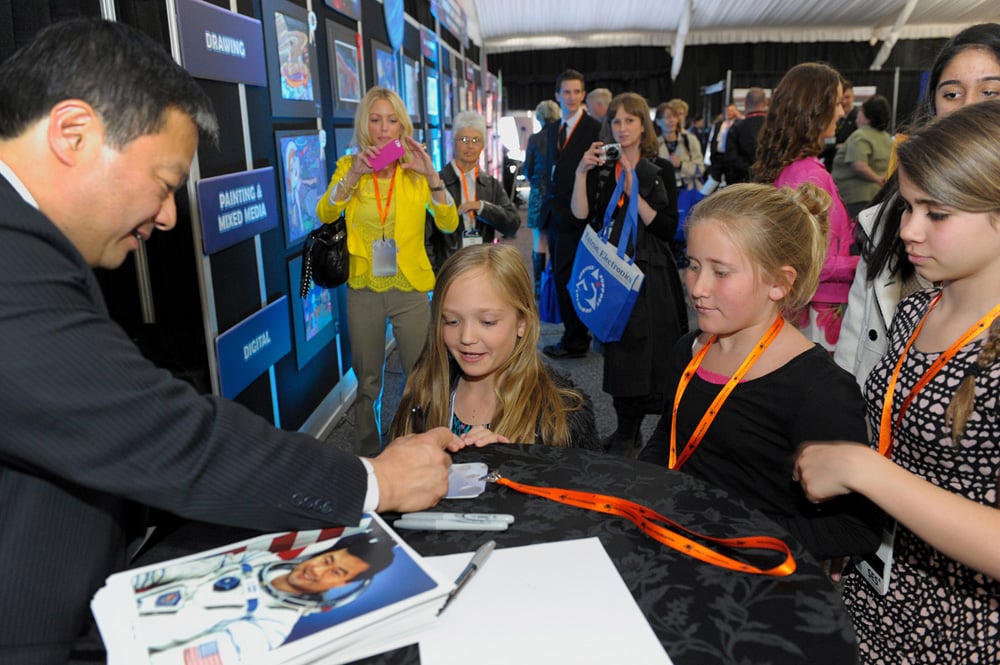 Artwork Media/Format
Drawing
Painting
Mixed media
Digital art
Eight Age Categories
3 – 4 years 11 – 12 years
5 – 6 years 13 – 14 years
7 – 8 years 15 – 16 years
9 – 10 years 17 – 18 years
Prizes and Exposure
All winners receive a prize, a ribbon and a certificate
First place winners and the Space Foundation Achievement Award winner will receive an additional prize
All entries will be displayed in the online Space Foundation art gallery on Artsonia.com and winners will be showcased on the Space Foundation website
All winners receive international exposure – digital images of past winners' artwork have been sent to the International Space Station
How to Enter
The Space Foundation partners with Artsonia.com to receive all artwork entries. Artsonia is free to use, and teachers may submit student art entries into the contest without joining Artsonia.
To learn more, review details or submit artwork, go to www.artsonia.com/space/express.
For art upload or submission questions, contact Artsonia customer support at [email protected] or call 800.869.9974 (U.S. only) or +1.224.538.5060 (outside of the U.S.). For general contest questions, contact the Space Foundation at [email protected].
Pictured: 2013 Art contest winners meet former NASA astronaut Leroy Chiao, Ph.D., at the 29th National Space Symposium in Colorado Springs, Colo., U.S.A.

This article is part of Space Watch: November 2013 (Volume: 12, Issue: 11).
---
Posted in Education