Spotlight
---
Newly-Launched Newsletter Keeps Volunteers Connected
Written by: developer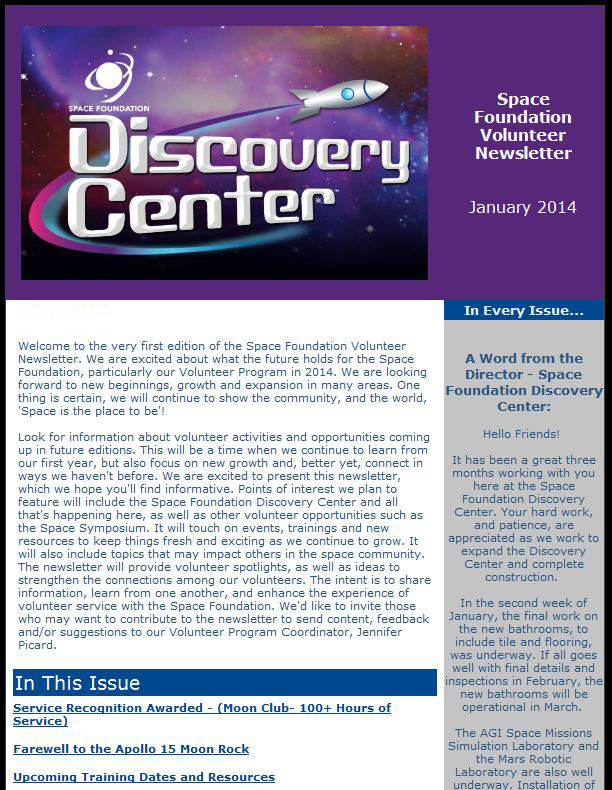 As part of our expanding volunteer program, we launched a new Space Foundation Volunteer Newsletter in January. Distributed monthly to our volunteers, the newsletter will offer us a way to stay connected with our volunteers and for the volunteers to connect with each other. The purpose of the newsletter is to share information and enhance the experience of volunteer service with the Space Foundation.
Topics to be covered in the newsletter include Discovery Center events, other volunteer opportunities, trainings and new resources that will assist the volunteers. It will also include topics that may impact others in the space community, volunteer spotlight profiles, as well as ideas to strengthen the connections among the volunteers.
Interested in volunteering with the Space Foundation? If you are love space, this is the place to be! We could not do the work we do without the generous and tireless support of volunteers. We provide meaningful work for our volunteers that contribute directly to supporting our mission: to advance space-related endeavors to inspire, enable and propel humanity.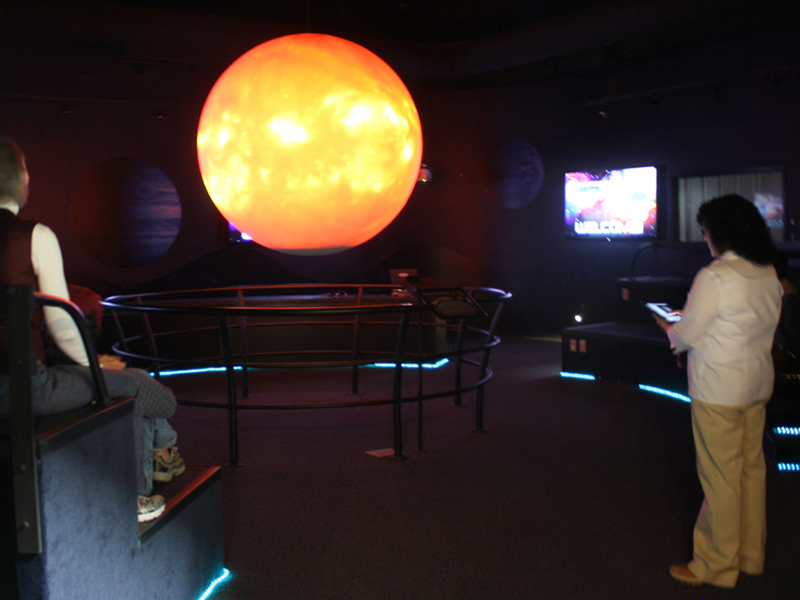 The Space Foundation is currently seeking volunteers for the Discovery Center to serve as docents, reception desk volunteers or light security. Volunteers can work as little as eight hours per month, to as often as five full days a week. Docents conduct small group tours, answer questions and/or help visitors in the Northrop Grumman Science Center, featuring Science On a Sphere® and in the El Pomar Space Gallery.
Pictured, left: Docent Wendy Perelstein conducts a presentation for visitors in Science On a Sphere.
Docents will also be needed in the new AGI Space Missions Simulation Laboratory and the Mars Robotics Laboratory, opening very soon. Reception desk volunteers welcome and help check-in public and private tours, classroom groups, invited guests and the public.
Those not comfortable speaking to large groups can volunteer in a light security position that provides operational support, helps with managing large class tours and admissions, as well as helping with other operational projects. In addition, there are various special events and activities throughout the year that require volunteer support, such as Star Days, Summer of Discovery, and the Space and Science Fiction Halloween Ball. If you have a background in the space industry, or if you have museum experience, that's great, but it is not required. We provide all the necessary training and support.
To register to volunteer or to find out more about the benefits of volunteering, visit http://www.spacefoundation.org/who-we-are/volunteer/ or contact Jennifer Picard, Space Foundation Volunteer Program Coordinator at [email protected] or call +1.719.576.8000.
This article is part of Space Watch: February 2014 (Volume: 13, Issue: 2).
---
Posted in Spotlight