International Affairs
---
Space Foundation Participates in ISU Executive Space Course
Written by: developer
The Space Foundation is placing increasing emphasis on building relationships abroad, which can be seen by the growing international involvement at the Space Foundation's annual Space Symposium. It also shares a close relationship with International Space University (ISU), and supports its various programs.
In April, the Space Foundation participated in the International Space University's Executive Space Course, held at ISU Central Campus Strasbourg, France.
The course was taught in English, and provided an overview of space and space-related subjects for professionals of diverse backgrounds, including marketing, finance, law and contracts management, plus engineers and scientists from other foreign space programs, as well as employees from large international commercial satellite companies.
The goal was to provide those attending with a better understanding of space technology and business, and provide participants with exposure to a unique interdisciplinary, international and intercultural learning environment.
Space Foundation Government Affairs Associate Tommy Sanford participated in the course and engaged in several hands-on workshops with his international colleagues during the course of the week, including microgravity experiments.
Pictured: Tommy Sanford (left) at the International Space University's (ISU) Executive Space Course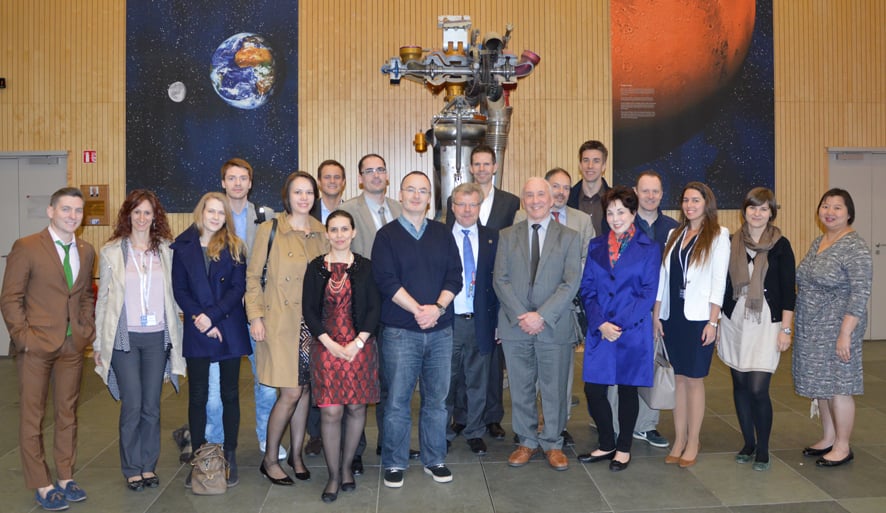 This article is part of Space Watch: May 2014 (Volume: 13, Issue: 5).
---
Posted in International Affairs