Space Symposium
---
Gov. Hickenlooper to Sign Space Flight Bill at Symposium and Speak at Space Warfighters Luncheon
Written by: developer
Colorado Governor John Hickenlooper will participate in two events at this month's 30th Space Symposium in Colorado Springs. The Space Foundation's Space Symposium is an international space conference to be held May 19-22 at The Broadmoor, and is expected to draw 9,000 participants from 20 countries.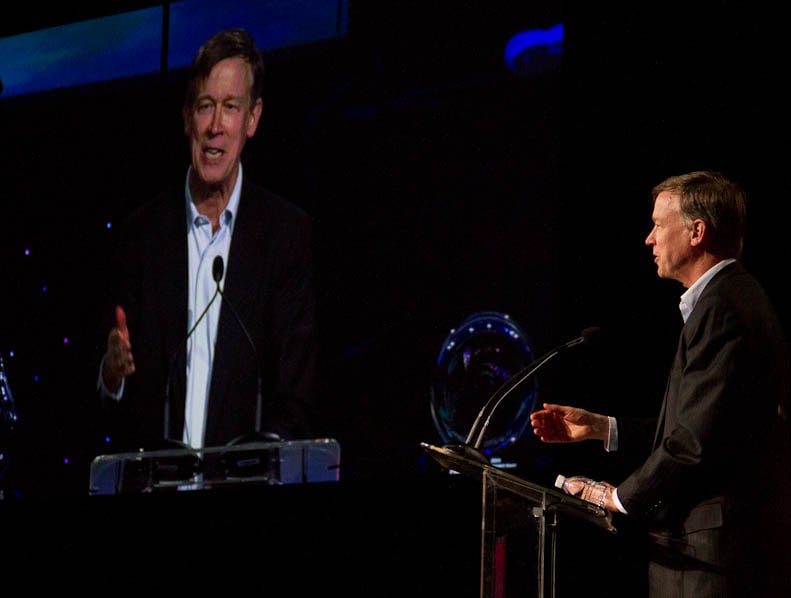 At 11:40 a.m. on May 20, the Governor plans to sign a bill in the Symposium's Boeing Exhibit Center at the Colorado Space Coalition booth. The bill is HB14-1178 "Sales and Use Tax Exemption for Space Flight Property" by Representatives Mark Ferrandino and Brian DelGrosso and Senators Mary Hodge and Kevin Grantham.
The Governor will also speak at the Symposium's Space Warfighters Luncheon on May 20, to be held at The Broadmoor's Colorado Hall beginning at 12:15 p.m.
Featured speaker at the luncheon will be Lt. Gen. John W. "Jay" Raymond, USAF, Commander, 14th Air Force (Air Forces Strategic), Air Force Space Command; and Commander, Joint Functional Component Command for Space, U.S. Strategic Command, Vandenberg Air Force Base, Calif.
The Space Warfighters Luncheon is held annually during the Space Symposium to honor the men and women who serve in the military around the world, and highlights the role space assets play in providing security and solutions for keeping troops safe, informed and effective. The luncheon is co-sponsored by United Launch Alliance (ULA), with corporate host Michael C. Gass, President and Chief Executive Officer, ULA.
Gov. Hickenlooper, a self-described "recovering geologist now on loan to public service," was elected Colorado Governor in 2010, after serving eight years as Mayor of Denver.
See information about tickets to the Space Warfighters Luncheon, plus registration details for the 30th Space Symposium at www.SpaceSymposium.org.
Pictured above: Governor Hickenlooper speaking at last year's Space Symposium.
Co-sponsors
a.i. solutions; Aeroflex Microelectronic Solutions; Aerojet Rocketdyne; Airbus Group, Inc.; Analytical Graphics, Inc. (AGI); Arianespace; ATK; Ball Aerospace & Technologies Corp.; Booz Allen Hamilton; Colorado Space Business Roundtable (CSBR); Colorado Space Coalition; EaglePicher Technologies, LLC; El Pomar Foundation; Euroconsult; Exelis; FedEx; Fisher Space Pen; Government Executive Media Group; High Impact Creative; Holland & Hart LLP; Inmarsat; Intelsat General Corporation; Launchspace; Lockheed Martin; Maui Economic Development Board (MEDB); MetiSpace Technologies, Inc.; Millennium Engineering and Integration Company; Moog Inc.; Müller-BBM VibroAkustik Systeme, Inc.; National Science Teachers Association; Northrop Grumman; Orbital Sciences Corporation; Orbital Technologies Corporation (ORBITEC); PAE; Pulsed Harmonix; Raytheon; Scitor Corporation; Secure World Foundation; SES Government Solutions; SLS and Orion Industry Team; Space Generation Advisory Council (SGAC); SpaceX; Spincraft; SSL; Stellar Solutions,Inc.; The Boeing Company; The SI Organization; United Launch Alliance; and Universities Space Research Association (USRA); Aviation Week, SatNews Publishers; SpaceNews and TechBriefs Media Group are media partners.
This article is part of Space Watch: May 2014 Special Edition - 30th Space Symposium (Volume: 13, Issue: 5.1).
---
Posted in Space Symposium