Space Foundation News
---
Grant will Establish Lockheed Martin Space Education Center at Space Foundation World Headquarters
Written by: developer
Bringing STEM to Life through Space Exploration
With more than 1,400 events in 80 countries, World Space Week is the largest international celebration of science and technology, providing space education and outreach opportunities to thousands of individuals around the world.
In celebration of World Space Week, Lockheed Martin pledged a grant to establish the Lockheed Martin Space Education Center (LMSEC) at the Space Foundation World Headquarters and Discovery Center in Colorado Springs, Colorado.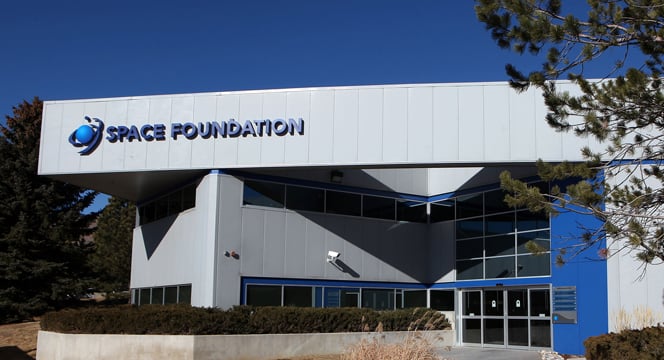 Lockheed Martin has long championed the development of future innovators in the field of science, technology, engineering and math (STEM). As such, the Space Foundation, a global leader in space awareness activities, will provide a powerful platform for the delivery of STEM education programs for both students and teachers.
Lockheed Martin funding will provide necessary STEM equipment and hardware for program delivery, scholarships for field trips and will support Space Foundation teacher professional development programs. The Lockheed Martin Space Education Center will be dedicated in 2015 and directly impact more than 8,000 students and teachers annually.
An important piece of the grant will be used to offer not only on-site, but also virtual field trips to schools across the country and around the world that would not otherwise have the resources to provide their students with an enriching STEM experience.
This grant from Lockheed Martin Corporation will directly benefit schoolchildren and educators, especially those at schools serving large concentrations of low-income and at-risk children.
"At Lockheed Martin, we're dedicated to advancing STEM education and supporting programs that promote student achievement," said Rick Ambrose, executive vice president of Lockheed Martin Space Systems Company. "We are proud to partner with the Space Foundation to inspire the brightest minds of the future by bringing math and science to life through interactive, real-world space exploration examples."
"The Space Foundation Discovery Center was designed from the ground up to be a STEM-purposed center of formal and informal education in Colorado, and, through distance delivery technologies, the nation and world," said Space Foundation Chief Executive Officer Elliot Pulham. "We are very grateful to Lockheed Martin for this grant, and pleased to announce it during World Space Week."
Learn more about Space Foundation education programs here.
This article is part of Space Watch: November 2014 (Volume: 13, Issue: 11).
---
Posted in Space Foundation News