International Affairs
---
Italian Space Agency President is First to Join Space Symposium Panel
Written by: developer
Professor Roberto Battiston, President, Italian Space Agency (ASI), is confirmed for the 31st Space Symposium's "Space Agency Leaders" panel. He will be the first official to participate from ASI, which is the third largest contributor to the European Space Agency (ESA).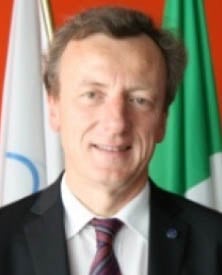 Battiston (pictured) will join panelists:
Dr. Mohammad Nasser Al Ahbabi, Director General, United Arab Emirates Space Agency
Maj. Gen. Charles F. Bolden, Jr., USMC (Ret.), Administrator, National Aeronautics and Space Administration (NASA)
Luc Brûlé, Interim President of the Canadian Space Agency (CSA)
Jean-Jacques Dordain, Director General, European Space Agency (ESA)
Dr. Francisco Javier Mendieta Jiménez, General Director, Mexican Space Agency (AEM)
Jean-Yves Le Gall, President, Centre National d'Études Spatiales (CNES)
Ger Nieuwpoort, Ph.D., Director, Netherlands Space Office
Dr. Marious-Ioan Piso, Chief Executive Officer, Romanian Space Agency (ROSA)
Johann-Dietrich Wörner, Chairman of the Executive Board, German Aerospace Center (DLR)
Space Foundation Chief Executive Officer Elliot Pulham is the panel moderator.
The 31st Space Symposium will be held April 13-16 at The Broadmoor in Colorado Springs, Colo., USA. Visit www.SpaceSymposium.org for secure online registration and complete conference information. A discount on standard industry registration is now in effect if paid before March 20, 2015.
Co-sponsors
a.i. solutions; Aerojet Rocketdyne; Arianespace, Inc.; Artel LLC; Ball Aerospace & Technologies Corp.; Booz Allen Hamilton; Colorado Space Coalition; El Pomar Foundation; Exelis; Holland & Hart; Inmarsat; Intelsat General Corporation; Lockheed Martin; Northrop Grumman; OrbitalATK; Pulsed Harmonix; Raytheon; Scitor; SES Government Solutions; SpaceX; Spincraft; SSL; Stellar Solutions; United Launch Alliance (ULA). Aviation Week, Satnews and Space News are media partners.
This article is part of Space Watch: March 2015 (Volume: 14, Issue: 3).
---
Posted in International Affairs