Education
---
Space Foundation Brings a Community Approach to STEM Education
Written by: developer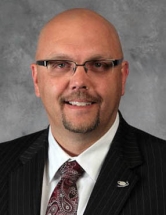 by Bryan DeBates, Space Foundation Senior Director – Education
Fresh off of our very successful Space in the Community program in Erie, Colo., the Space Foundation education team continues to inspire tomorrow's explorers. Our Space in the Community program was created to support a community approach to sparking students' interest in STEM education, and to help all members of a community discover how interest in space can bring the community together. Space in the Community incorporates our existing Audience with an Astronaut™ education program, featuring former NASA astronauts giving presentations that explain how science, technology, engineering and math are applied in space. To that we added classroom, hands-on activities for students, plus community events and presentations to help support the students' learning. For information about planning a Space in the Community event, please email [email protected].
School field trip season is picking up and the Discovery Center is welcoming between 500 to 1,000 students per week this spring (see the buses lined up in the photo below!). Our Discover the Universe field trips feature Science On a Sphere® presentations, as well as our newly remodeled labs, the AGI Space Missions Simulation Lab and Mars Robotics Lab.
On Saturday, March 12, education specialists Jami Sunkel and Carah Barbarick conducted a STEAM program (science, technology, engineering, art and mathematics) for educators. This integration teacher professional development workshop focused on using iPads and tablets in the classroom with App Smashing and Mission Mash-ups. We will be conducting another teacher professional development day on May 7, led by education specialist Elias Molen. This class will show how 3D printing can be used in the classroom to infuse STEAM into existing curriculum. Please email [email protected] to register for this workshop.
The traveling exhibit MathAlive! will continue through the end of April at the Discovery Center. As a reminder, MathAlive! is free to military and their families with a valid military I.D. This month, a new exhibit will be arriving courtesy of the German Space Agency, DLR. "The Red Planet in 3D" will astound visitors by immersing them in a Mars environment through 3D pictures.
Other Discovery Center events have been helping people get their "geek on" as well. Tesla's Toolbox, the Space Foundation's brand of tinkering sponsored in part by Uwingu, has been a huge success in its inaugural year. Check out our website calendar for future class times and topics.
March also saw the addition of another Space Education Specialist to the team. Slade Bradbury joined the Space Foundation family in March. Slade was previously a 5th grade teacher at Pikes Peak Prep Charter School. We are very excited for Slade to add his expertise to the mix of stellar educators already on staff at the Discovery Center. They make our field trips here second-to-none in the galaxy. Welcome, Slade!
This article is part of Space Watch: April 2016 (Volume: 15, Issue: 4).
---
Posted in Education