Second View
---
Patti Grace Smith (1947-2016)
Written by: developer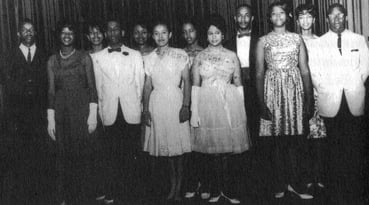 by Lon Levin, Director Emeritus and Former Chairman, Space Foundation
In September 1963, twelve African American teenagers dared to integrate the Tuskegee High School in Macon County, Alabama. Defying Governor George Wallace's proclamation of "segregation now, segregation tomorrow, and segregation forever" and the guns of the Alabama State Troopers surrounding the building, these kids, with the support of their brave families and U.S. Marshalls, went to school. The teenagers became the plaintiffs in the landmark case Lee vs. Macon County Board of Education, which led to the blanket desegregation order upheld by the Supreme Court in 1967. One of those teenage plaintiffs was Patricia Jones. You knew her as Patti Grace Smith (pictured second from right).
Patti was the firstborn child of parents who served as ground support at the Tuskegee Airfields during World War II — her father Douglas Jones, Sr., in the Army Air Corp, and her mother Wilhelmina Jones as a civilian. (Though not pilots, Patti's parents are recognized by the U.S. Park Service as Tuskegee Airmen.) Patti credits her dad for instilling in her the unequivocal belief that she could become whatever she wanted to be. He taught her that there were no boundaries.
Patti went to college at Tuskegee Institute, where she graduated with honors with a degree in English, and then continued graduate studies at Auburn University, George Washington University and Harvard University. She first worked in the broadcasting industry, but soon left to begin her 28-year career in government service. In the late 1970s through mid 1980s, she worked at the Federal Communications Commission on satellite matters. From there she moved to the Defense Communications Agency, and then in 1994, started work at the Federal Aviation Administration (FAA).
In the meantime, a bipartisan space initiative was unfolding. When President Ronald Reagan was told that Deke Slayton, the Mercury Seven astronaut, and his company Space Services needed permission from 17 different agencies to launch the Conestoga, the first private rocket, he ordered that the process be coordinated through one agency. Elizabeth Dole, the Secretary of Transportation, seized the responsibility for the Department of Transportation. In the mid 1990s, Vice President Al Gore, as part of his effort to streamline government, took the next step and moved responsibility for commercial private space regulation into a new Office of Commercial Space Transportation at the FAA.
Already working at the FAA for a few years, in 1997 Patti was asked to lead the Office with the title Associate Administrator for Commercial Space Transportation. Her job was to establish an effective and efficient regulatory regime for commercial private space industry. The odds of success were stacked against her.
At the beginning of Patti's tenure, there was no meaningful commercial space industry clamoring for FAA authorizations. Private sector proponents, her natural allies, were disregarded or ignored. Ideas were met with ridicule ("You want to license what? An inland spaceport?") or hostility ("There is only one space agency in town, and it ain't the FAA"). The most difficult struggle, however, was within the FAA. The FAA template was based on rules and regulations created over 70 years regulating the airline industry. No one had experience developing regulations for a nascent industry. Airline safety standards and operational regulations were complex and stringent. The people who implemented them were rigid and intransient.
Enter Patti Grace Smith.

Patti had the extraordinary blend of skills, character, and personality to implement great change. She had great political sense, knowing the sources of power and when to exploit them. People instantly liked her, and quickly grew to trust and respect her. She was masterful at building bipartisan alliances. She understood with great precision the regulations that would be acceptable to government and industry, and served as their bridge while her team crafted rules and regulations to nurture the new industry.
Pick your historic milestone, whether it is SpaceShipOne, SpaceX, Mojave Spaceport, NASA's Commercial Orbital Transportation Services (COTS), or any other meaningful private space endeavor. The rules and regulations crafted by Patti and her team are a fundamental pillar for these achievements. Her office's regulatory regime provided stability and respect for the industry, without any undue burdens.
Though Patti left the FAA in 2008, she remained an active champion for the space industry. She was an in-demand consultant for many space companies, large and small. Serving on the NASA Advisory Council, including as Chairperson of the Commercial Space Committee, Patti watched over her former Office, often serving as informal referee for NASA vs. FAA skirmishes. Patti was on the Board of Directors of the Space Foundation since 2010. She was in line to be Chairperson, which would have made her the first African American and first woman to hold that position.
Patti was my dear friend.
Informed by her religion and experience, she served things bigger than herself. The oldest of three siblings, she was a big sister to many others. If you needed help, she would do what she could. If you sought a job, she would open doors. If you needed a political ally, she would maneuver to make things happen. If she liked you, she would spread the good word. And if she made you part of her world, you were safer and stronger.
Celebrate the life of Patti Grace Smith.

# # #
More remembrances of Patti Grace Smith from Space Foundation Board Members:
"Patti Grace Smith's life's work was dedicated to expanding humanity's reach and capabilities in the final frontier of space. Throughout her career she was able to make critical contributions at pivotal moments to the progress of commercial human spaceflight. What I particularly recall about Patti is that she accomplished her work with a level of charm, humility, and respect for other's opinions that is all too rare today. Yet she knew how to lead, roll up the sleeves and get things done, and keep at it with dogged persistence despite seemingly insurmountable obstacles. The wilderness she helped tame might have been a Washington bureaucracy and competing commercial interests, but it was no less treacherous. Ms. Smith deserves to be included in any complete list of American space pioneers."
Hoyt Davidson, Managing Partner, Near Earth LLC, and Space Foundation Board of Directors Treasurer
# # #
"Personally, Patti was a delight. Professionally, she was much more than that. Space exploration is, by the very nature of its complexity, a bureaucratic endeavor. We all hear (and make) a lot of complaints about that bureaucracy. Patti was there to remind us how necessary, valuable, productive, and, indeed, caring, our administrative organizations are — when they're run by brilliant, far-seeing and considerate people like Patti. She was a paragon. She will be missed."
P. J. O'Rourke, author, humorist and Space Foundation Member of the Board

# # #
"Patti was not only a tireless space advocate, but she was a passionate champion for the future. The better future she believed in was not only about the full engagement of all sectors of society in the exploration and development of space, it was about mentoring and encouraging and enabling the space leaders of tomorrow. She never missed an opportunity to participate in a Space Foundation New Generation Space Leaders program, and she never missed an opportunity to inject her boundless optimism into a Space Foundation board meeting. Her amazing life was all about erasing barriers and boundaries, and her enthusiasm and infectious laughter will be sorely missed."
Elliot Holokauahi Pulham, Space Foundation CEO and Member of the Board
# # #
"Patti and I grew up in Alabama at the same time on opposite sides of the racial divide. I wish I had known her then. I am awed by her courage, her resolve, her humility and her charm. She left this world a better place in so many ways. Godspeed, Patti, you are missed."
Kathryn C. Thornton, Ph.D., Professor, University of Virginia, Former NASA astronaut, Space Foundation Board of Directors Special Director of Education
# # #
"It is hard to imagine a space community without Patti Grace Smith. Not only was she the consummate professional, but she was a friend to everyone in our world. I wrote a lot of legislation to make space commercialization into a policy reality, but it was Patti who made the whole concept work in the real world. She took on bureaucracies and entrenched interests to change forever the space paradigm. The commercial pioneers and entrepreneurs have Patti to thank for breaking down the barriers that kept space activity in government hands rather than opening it to private investment and innovation. Patti proved that there are public servants with vision and fortitude who open the doors to the future. Patti's work opened the skies to the heavens for the many whose dreams can now take them there. She was one of kind and dear friend who is deeply missed."
Robert Walker, Space Foundation Director Emeritus and Executive Chairman, Wexler Walker
# # #
This article is part of Space Watch: July 2016 (Volume: 15, Issue: 7).
---
Posted in Second View