Discover Space
---
Space Foundation International Teacher Liaison Program Adds 39 Educators for 2020
Written by: Space Foundation Editorial Team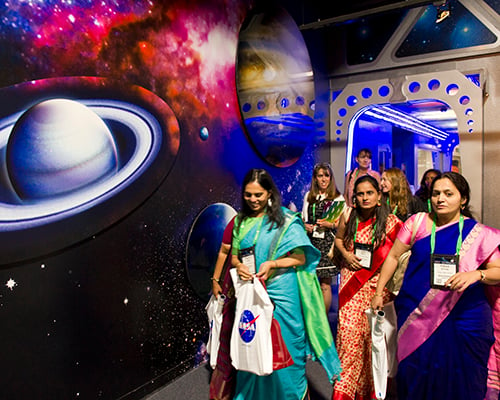 Includes six new international teachers from India, Mexico, and Puerto Rico
Elite educator program promotes space-related STEM education
Teachers will participate in the 36th Space Symposium
COLORADO SPRINGS, Colorado (Dec. 3, 2019) — The Space Foundation has selected 39 outstanding educators to join its Teacher Liaison program in 2020, including six international applicants from India, Mexico, and Puerto Rico. These educators were chosen for their active promotion of space, science, and STEM education in the classroom.
Started by the Space Foundation in 2004, the Teacher Liaison program positively influences STEM education on an international level, using space-related content to inspire the next generation of astronauts, scientists, engineers, and space pioneers. Teacher Liaisons serve as advocates for STEM education and use training and resources, provided by the Space Foundation, to further integrate space principles into their classrooms, schools, communities, and beyond.
Each selected class of Teacher Liaisons is called a "flight" to denote the teachers' mission as premier Space/STEM educators. A new flight of Teacher Liaisons is selected each December following a rigorous application process. This program is open to public, private, and homeschool teachers, in both informal and formal education, as well as school administrators, principals, specialists, curriculum and instruction developers, as well as others who deliver educational programs to students.
New Teacher Liaisons are selected by a panel comprised of experienced Teacher Liaisons, as well as representatives from the space industry and the military. The Space Foundation Teacher Liaison program is funded by Lockheed Martin and the Miller-Wood Foundation.
New Teacher Liaisons will be publicly recognized at the Space Foundation's 36th Space Symposium, to be held March 30 – April 2, 2020, at The Broadmoor in Colorado Springs, Colo., USA. In addition to recognition activities, Teacher Liaisons also participate in the Space Foundation's virtual distance delivery education programs.
The new Teacher Liaisons are:
United States
Arizona
Lisa Love, Yuma, AZ, H.L. Suverkrup Elementary School
Michelle Mohrweis, Chandler, AZ, Bogle Junior High School
Jeff Herold, Phoenix, AZ, Arizona Science Center
Colorado
Amber Bjork, Colorado Springs, CO, Space Foundation
Ruth Butler, Colorado Springs, CO, Space Foundation
Jeff Gonyea, Colorado Springs, CO, Space Foundation
Lori Ranney, Lakewood, CO, Bell Middle School
Chrys Rheinbolt, Colorado Springs, CO, Space Foundation
Florida
Caryn Long, Clermont, FL, Montverde Academy
Jessica Strauss, Tampa, FL, Mabry Elementary School
Georgia
Alana Davis, Powder Springs, GA, Cobb County School District
April Leachman, Dallas, GA, South Paulding Middle School
Sarah Nupen, Fort Benning, GA, Columbus State University's Coca-Cola Space Science Center
Laurie Orth, Evans, GA, Laurie Orth – Music Teacher
Massachusetts
Souad Belcaid, Newton, MA, The Fessenden School
Michigan
Lisa Wininger, Portage, MI, West Shore Educational Service District
Minnesota
Caroline Little, Saint Paul, MN, Visitation School
New Jersey
James Falletti, Hackensack, NJ, Corpus Christi School
New Mexico
Lynette Jordan, Roswell, NM, Valley View Elementary School
New York
Patrick Petty, Fort Plain, NY, Fort Plain Junior Senior High School
North Carolina
Elisabeth (Betty Jo) Moore, Yadkinville, NC, Wiley Magnet Middle School
Oklahoma
Lee Ann Gray, Ada, OK, Willard Middle School
Rhode Island
Renee Gamba, Cranston, RI, City of Providence Museum of Natural History and Planetarium, Middletown Public Schools
Texas
Jennifer Duffer, Conroe, TX, Montgomery High School
Christine Graham, McKinney, TX, Cockrill Middle School
Angela Groves-Price, Fort Worth, TX, P. McLean Middle School
Leah Pinto, Gilmer, TX, Bruce Junior High School
Deyanira Salazar, Uvalde, TX, Math Rocks!
Joy Schwartz, Beaumont, TX, Legacy Christian Academy
Washington
Rachel Harrington, Arlington, WA, Haller Middle School
Trevor Macduff, Pasco, WA, River's Edge High School
Wisconsin
Kellie Arenz, North Prairie, WI, Park View Middle School
Jenny McCall, Kenosha, WI, Kenosha School of Technology Enhanced Curriculum
Puerto Rico
Elizabeth Torres-Rodriguez, Arecibo, Jose Julian Acosta
India
Nilima Jaunjale, Maharashtra, Pune, Vidya Valley School
Netre Kulkarni, Maharashtra, Pune, The Orchid School
Aparajita Roy, Maharashtra, Pune, Vidya Valley School
Amita Trivedi, Maharashtra, Pune, Vidya Valley School
Mexico
Julio Baizabal, Coatepec, Veracruaz, Caftánrojo Colegio de las Artes
To learn more about Teacher Liaisons and Space Foundation education programs, please visit https://www.discoverspace.org/education.
Free Lesson Plans for Educators
The Space Foundation has collaborated with Peanuts to provide free Snoopy-themed lesson plans to improve students' skills in science, technology, engineering, and mathematics (STEM). Educators may access the free lesson plans at https://www.discoverspace.org/stem-lesson-plans
About the Space Foundation
Founded in 1983, the Space Foundation is a 501(c)(3) nonprofit and the world's premier organization to inspire, educate, connect, and advocate on behalf of the global space community. It is a leader in space awareness activities, educational programs, and major industry events, including the annual Space Symposium. Space Foundation headquarters is in Colorado Springs, Colo., USA, and has a public Discovery Center, including El Pomar Space Gallery, Northrop Grumman Science Center featuring Science On a Sphere®, and the Lockheed Martin Space Education Center. The Space Foundation has a Washington, D.C., office, as well as field representatives in Houston and on the Florida Space Coast. It publishes The Space Report: The Authoritative Guide to Global Space Activity, and through its Space Certification™ and Space Technology Hall of Fame® programs, recognizes space-based innovations that have been adapted to improve life on Earth. Visit both websites — www.SpaceFoundation.org and DiscoverSpace.org — and follow on Facebook, Twitter, Instagram, LinkedIn, and YouTube.
# # #
Space Foundation contact:
Carol Hively, Director – Public Relations & Team Communications
[email protected]
---
Posted in Discover Space