Discover Space
---
Apply Now to Become a Space Foundation Teacher Liaison
Written by: Space Foundation Editorial Team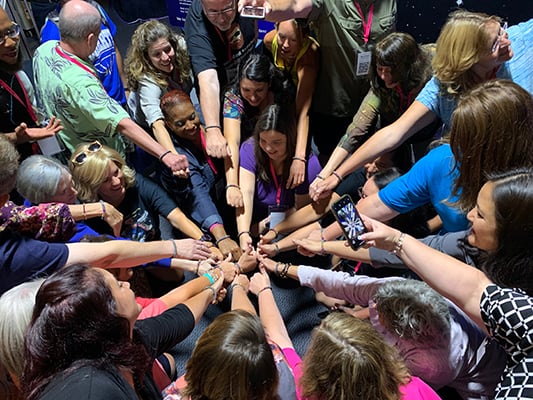 Deadline to apply is Sept. 30
Connect with other educators who use space themes in the classroom
COLORADO SPRINGS, Colo. (July 1, 2020) — Do you have what it takes to be a Space Foundation Teacher Liaison? Started in 2004, this prestigious, internationally recognized program provides select educators from around the world with new skills, strategies, and capabilities to improve their classroom/student engagement as they help forge the next generation of space, science, and technology pioneers.
Teacher Liaisons tend to be Master Teachers who work to inspire and prepare students to pursue and excel in the areas of science, technology, engineering, and mathematics (STEM). Membership in the Teacher Liaison program is open to educators in all disciplines, ranging from science and mathematics to language arts, physical education, special education, and the arts. Applicants must demonstrate their commitment to integrate space education into their curriculum.
The Teacher Liaison program is open to public, private, and homeschool teachers, in both informal and formal education. School administrators, principals, specialists, curriculum and instruction developers, as well as others who deliver educational programs to students are also welcomed and encouraged to apply. If chosen for the program, teachers receive Space Foundation training and resources to further integrate space into their classrooms. They are also invited to attend the Space Foundation's Space Symposium, held annually each spring in Colorado Springs, Colo.
Following a rigorous application and selection process, a new class of Teacher Liaisons is announced each December. Upon selection, the new class of Teacher Liaisons is called a "Flight" to denote the teachers' mission as premier space/STEM educators.
In announcing the new call for applications, Space Foundation Senior Education Specialist, Keith Barger shared, "One of the greatest aspects of the Teacher Liaison program is, no matter if you are a first-year teacher or have 20-plus years of experience, the program offers lessons, strategies, and professional development that you can use and implement with your students."
With over 250 members around the world, and an annual reach numbering in the tens of thousands of students, Space Foundation Teacher Liaisons actively collaborate by sharing best practices, and in their support of one another on their mission to shape the next generation of scientists, engineers, entrepreneurs, and explorers.
Reflecting on her experiences with the program when she was selected in 2017, Courtney Black, a fifth grade science and mathematics teacher from Fort Myers, Florida shared, "The Teacher Liaison program has made such an indelible mark on my teaching that the effects can be seen not only in my life, but in the lives of my students. The multitude of opportunities for professional development, networking, and engaging in meaningful learning experiences with my students has forever changed me as an educator. I am humbled and inspired to be around such amazing educators and to be a part of the Space Foundation family."
The Teacher Liaison program is part of the Space Foundation's recently launched Center for Innovation and Education, which is dedicated to driving workforce development and economic opportunity so every generation can find their place in the space economy.
Applications for the Teacher Liaison program are now being accepted at https://www.discoverspace.org/education/for-educators/teacher-liaisons/
All submissions are due by September 30, 2020. 
About Space Foundation
Headquartered in Colorado Springs, Colorado, Space Foundation is a 501(c)(3) nonprofit and the world's premier organization dedicated to inspiring, educating, connecting, and advocating on behalf of the global space community. Through its newly established Center for Innovation and Education, Space Foundation partners with a diverse spectrum of public and private sector partners and donors to drive workforce development and economic opportunity so every generation can find their place in the space economy. Best known for its annual Space Symposium, attended by 15,000 space professionals from around the world, Space Foundation also publishes The Space Report, its quarterly authoritative guide to research and analysis of the space industry. At Space Foundation's Discovery Center an array of dynamic on-site and online space-inspired educational programming is available for teachers, parents, students, and the general public to prepare them for their own space futures. Visit Space Foundation at www.SpaceFoundation.org, and follow us on Facebook, Twitter, Instagram, LinkedIn, and YouTube.
# # #
Space Foundation contact:
Rich Cooper, Vice President, Strategic Communications & Outreach
[email protected]
[email protected]
---
Posted in Discover Space