Uncategorized
---
Volunteer Spotlight: Tom Mullikin
Written by: Space Foundation Editorial Team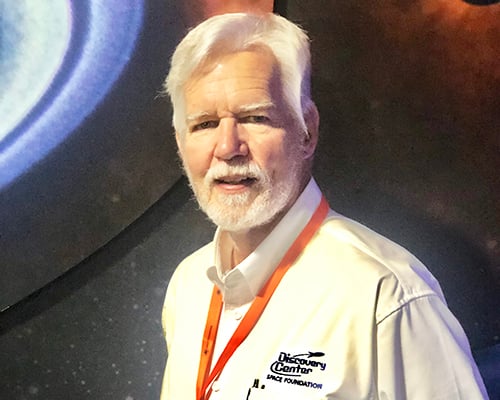 These Volunteer Spotlight articles profile some of the interesting and dedicated people who make Space Foundation programs possible. We could not do the work we do without the generous and tireless support of our volunteers. This week, we are featuring Space Foundation Discovery Center volunteer Tom Mullikin.
Tom has always been interested in astronomy and spaceflight, and at age 14, he saw the launch of the Apollo 11 mission in person. His love of space exploration inspired him to pursue an education that includes two advanced degrees in astronomy and astrophysics, and a Bachelor of Science degree in physics.
Tom retired as a Space Operations Engineer in early 2017. For the last 20 years of his career, he was a consultant working primarily on large constellations of satellites for government and commercial customers. He worked on programs such as the Global Positioning System of satellites and Motorola's IRIDIUM global telecommunications system.
He also worked on launch vehicle safety and analysis efforts for Federal Aviation Administration (FAA) certification of commercial launch service companies. He specialized in orbital mechanics and space propulsion, and planned missions from launch through early orbital operations and payload activation. Additionally, he has worked on NASA solar observation missions.
Prior to consulting, he worked for over 15 years for both small and large aerospace companies in the area of space mission analysis, early mission operations for the Block I GPS program, space surveillance programs, and business development.
Tom is a Certified Docent in our Mars Robotics Laboratory and Science On a Sphere®, he conducts "My Favorite Things" Docent Tours, and serves as a mentor supporting the onboarding of our new volunteers. Since the Discovery Center reopened in June, we've been down to half our usual core volunteer group, and Tom has been volunteering twice a week since then to help bridge the gap. Thanks Tom — you've been a huge help!
If you are interested in becoming a Space Foundation/Space Foundation Discovery Center volunteer, please reach out to Jennifer Walters, Volunteer Program Manager, at [email protected]
---
Posted in Uncategorized