Space Foundation Press Releases
---
Space Technology Hall of Fame Nomination Period Extended
Written by: Space Foundation Editorial Team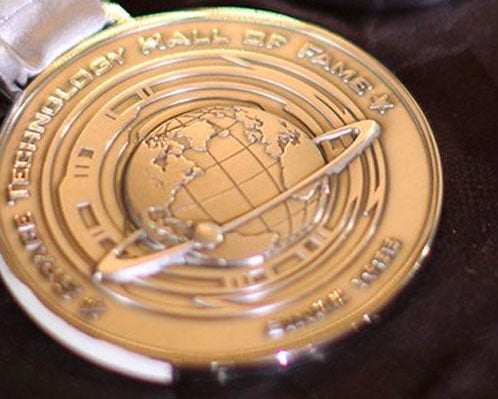 Submission Deadline Now September 1
Recognize life-changing technologies emerging from space programs
Nominate up to three technologies using an online form
Inductees honored in a special ceremony at the Space Symposium
COLORADO SPRINGS, Colo. — August 10, 2020 — Space Foundation, a 501(c)(3) global space advocate for 37 years, today announced that the deadline to submit a nomination for induction into its Space Technology Hall of Fame in 2021 has been extended to September 1, 2020.
Every summer, Space Foundation solicits nominations for induction into the Space Technology Hall of Fame for the coming year. In addition to affording innovators much-deserved recognition, this program serves to encourage further leading-edge technology development.
Created by Space Foundation in 1988, the Space Technology Hall of Fame recognizes the life-changing technologies emerging from global space programs; honors the scientists, engineers, and innovators responsible; and communicates to the public the importance of these technologies as a return on investment in space exploration.
"Space exploration has always had trailblazers, and when those trails lead back to us here on Earth with new technologies and solutions to help everyday lives, the rewards are amplified. At Space Foundation, we celebrate those achievements and are always seeking more to recognize," said Shelli Brunswick, COO of Space Foundation.
Inducted technologies have included energy-saving devices, health-improvement technologies, satellite and telecommunication technologies, and practical commercial devices. Most recently, the Audio Conference Bridge Technology, Apollo 70 Cardiac Care Monitoring System, and the Traveling-Wave Tube Amplifier were inducted. All inducted technologies can be viewed here.
Using the online nomination form, individuals and organizations may nominate up to three technologies, including previously nominated technologies that have not been inducted. Supporting materials submitted for review, such as technical papers and product literature, will be assessed for completeness. Candidate technologies will then be submitted to a prestigious panel of judges and ranked according to Space Technology Hall of Fame selection criteria.
Top-ranked candidates will undergo a due diligence process. Selected nominations are announced each winter, and then officially inducted into the Space Technology Hall of Fame the following spring during a special awards ceremony to be held during the 37th Space Symposium, April 12–15, 2021, in Colorado Springs.
About Space Foundation
Space Foundation is a 501(c)(3) nonprofit advocate for the global space community. Through a partnership model, its Center for Innovation and Education unites the entire spectrum of global stakeholders, including public and private businesses, government agencies, educational institutions, and local communities, to serve the entire life cycle of the workforce, from students and young leaders to entrepreneurs and professionals. Best known for its annual Space Symposium, attended by 15,000 space professionals from around the world, Space Foundation also publishes The Space Report, its quarterly authoritative guide to research and analysis of the space industry. Headquartered in Colorado Springs, Colo., Space Foundation's Discovery Center offers rich programming on-site and online for teachers, parents, and students. Visit Space Foundation at www.SpaceFoundation.org, and follow us on Facebook, Twitter, Instagram, LinkedIn, and YouTube.
###
All brand names and product names are trademarks or registered trademarks of their respective companies.
Tags: Space Foundation, Space Technology Hall of Fame, space commerce, space technology, space innovation, Space Symposium, space economy, space exploration, space program
Media Contact:
Rich Cooper
Vice President, Strategic Communications & Outreach
Space Foundation
+1.719.576.8000
[email protected]
[email protected]
---
Posted in Space Foundation Press Releases