Uncategorized
---
Volunteer Spotlight: Keith Radecker
Written by: Space Foundation Editorial Team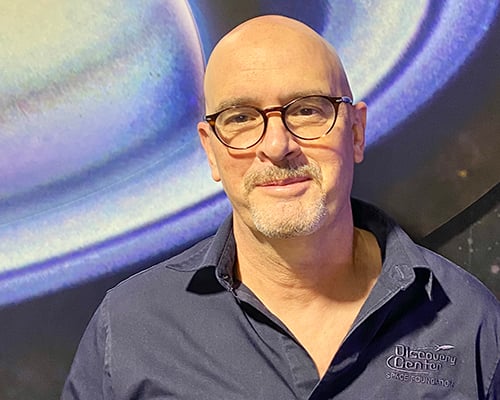 These Volunteer Spotlight articles profile some of the interesting and dedicated people who make Space Foundation programs possible. We could not do the work that we do without the generous and tireless support of our volunteers. This week, we are featuring Space Foundation Discovery Center volunteer Keith Radecker.
Radecker was born and raised in New Orleans, and studied geology at Louisiana State University and The University of New Orleans. He started working for Chevron in 1979, and retired from there after 37 years. Most of his career was spent utilizing and teaching computer mapping and modeling — and although his career was in geology, his first love was always astronomy. Since he retired to Colorado Springs in 2016, he spends as much time as possible running, hiking, skiing, and mountain biking.
Keith is our lead Collections and Accessions Volunteer, and he enjoys the detailed work of Collections which is his main duty at the Discovery Center. He is also certified on the Science On a Sphere® exhibit — in fact, you'll usually find him "spinning the Sphere" on Saturdays at the Discovery Center! He truly loves giving lectures on the SOS exhibit because he gets to share his excitement for all the new discoveries being made in our solar system.
The reason that the Viking Lander exhibit is his favorite artifact in the museum is because he was taking an astronomy course at Louisiana State University when the Viking missions took place and he can clearly remember the excitement of following those missions as they made the first safe landings on Mars.
If you are interested in becoming a Space Foundation/Space Foundation Discovery Center volunteer, please reach out to Jennifer Walters, Volunteer Program Manager, at [email protected]
---
Posted in Uncategorized