Uncategorized
---
Volunteer Spotlight: George Gorman
Written by: Space Foundation Editorial Team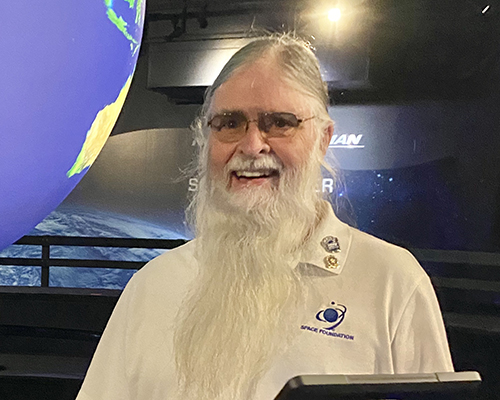 These Volunteer Spotlight articles profile some of the interesting and dedicated people who make Space Foundation programs possible. We could not do the work that we do without the generous and tireless support of our volunteers. This week, we are featuring Space Foundation Discovery Center volunteer George Gorman.
George was born in Chicago and raised outside the city at a time when the Milky Way dominated the sky. He has admired the stars ever since, but his true interest in space began when he started volunteering at Space Foundation Discovery Center. Gorman has retired from a career of writing testing software for computer hardware, some of which hardware has been used in military aircraft and in spacecraft. His personal hobbies have included scuba diving, sailing, stargazing, tennis, and more recently, pickleball and model railroading.
George is a certified docent on the Science On a Sphere® and in the Mars Robotics Laboratory, and he's a mentor supporting the onboarding of new volunteers coming into the Discovery Center. His favorite Discovery Center exhibits are the Science On a Sphere® and the Mars Robotics Laboratory, because they allow him to help people learn about space and space exploration — which is his favorite part of volunteering.
If you are interested in becoming a Space Foundation/Space Foundation Discovery Center volunteer, please reach out to Jennifer Walters, Volunteer Program Manager, at [email protected]
---
Posted in Uncategorized