Discover Space
---
L3Harris Technologies to Fund Space Foundation Virtual STEM Education Program
Written by: Space Foundation Editorial Team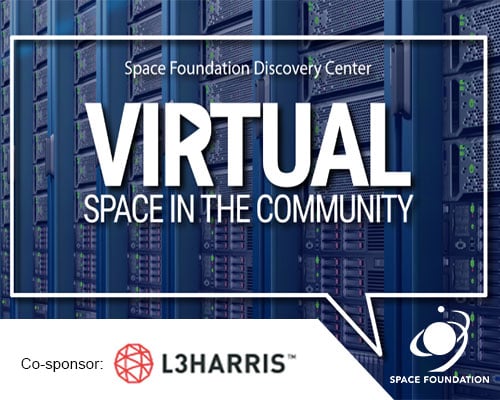 First Virtual 'Space in the Community' Episodes to Offer STEM Lessons for Students and Educators, Beginning Nov. 9
Live episodes featuring former NASA astronaut Col. Paul Lockhart
Webisodes to include STEM lesson plan tutorials for educators
L3Harris engineer interviews to inspire students in STEM subjects
COLORADO SPRINGS, Colo. — Oct. 29, 2020 — In its continuing efforts to inspire the next generation of space explorers, innovators, and entrepreneurs, Space Foundation has partnered with L3Harris Technologies to provide a teacher, student, and community engagement program that uses space themes to increase students' interest and skills in science, technology, engineering, and mathematics (STEM).
With L3Harris funding, Space Foundation will once again be able to present its Space in the Community (SITC) program, delivered virtually this year to ensure the safety of all participants. This virtual format will allow students to benefit from the STEM instruction the program provides, while also making it available to a broader audience.
SITC is an immersive program that reinforces the importance of STEM studies in preparing for the careers of the future. A goal of this L3Harris collaboration with Space Foundation is to generate student interest in STEM careers. The program encourages students to take high school courses that lead to an interest in pursuing STEM studies in college.
A total of 10 episodes will be presented, including:
Two live "Audience with an Astronaut" episodes featuring former NASA astronaut Col. Paul S. Lockhart, USAF (Ret.)
Eight episodes featuring interviews with L3Harris engineers to inspire students to pursue STEM careers
Webisodes with STEM lesson plan tutorials for teachers presented by Space Foundation education team members
The live "Audience with an Astronaut" episodes will take place Nov. 9 (for elementary school students), and Nov. 16 (for middle/high school students), at 10:30 a.m. MST / 12:30 p.m. ET. Paul Lockhart piloted two space shuttle missions to the International Space Station aboard Space Shuttle Endeavor — STS-111 and STS-113 — both in 2002. In his inspirational presentations, Lockhart will share his experiences in space with students, and also inform them about the connection between education and exciting future career opportunities.
Prerecorded webisodes featuring interviews with multiple L3Harris engineers, and a collection of Space Foundation STEM lesson plan tutorials for educators will then follow on Nov. 18.
To complete registration for the "Audience with an Astronaut" events and access the prerecorded webisodes, go to https://discoverspace.org/education/l3-harris-virtual/
In announcing the program, Space Foundation Space Education Specialist Leanne Rehme shared, "This virtual spin on our long-running Space in the Community program allows our education team to reach a wide audience of students, educators, and community members with our STEM-related content. Through our interviews with L3Harris engineers, lesson plan tutorials, and virtual Audience with an Astronaut sessions, we hope to inspire viewers' interests in space and STEM."
Learn more about Space Foundation's STEM education outreach and the Space in the Community program at www.discoverspace.org/education
About Space Foundation
Space Foundation is a 501(c)(3) nonprofit advocate for the global space community. Through a partnership model, its Center for Innovation and Education unites the entire spectrum of global stakeholders, including public and private businesses, government agencies, educational institutions, and local communities, to serve the entire life cycle of the workforce, from students and young leaders to entrepreneurs and professionals. Best known for its annual Space Symposium, and now the digital Space Symposium 365, Space Foundation also publishes The Space Report, its quarterly authoritative guide to research and analysis of the space industry. Headquartered in Colorado Springs, Colo., Space Foundation's Discovery Center offers rich programming on-site and online for teachers, parents, and students. Visit Space Foundation at www.SpaceFoundation.org, and follow us on Facebook, Twitter, Instagram, LinkedIn, and YouTube.
About L3Harris Technologies
L3Harris Technologies is an agile global aerospace and defense technology innovator, delivering end-to-end solutions that meet customers' mission-critical needs. The company provides advanced defense and commercial technologies across air, land, sea, space, and cyber domains. L3Harris has approximately $18 billion in annual revenue and 48,000 employees, with customers in more than 100 countries. L3Harris.com.
###
Tags: Space Foundation, Space in the Community, L3Harris, STEM education, STEM educators, virtual STEM lessons
Media Contact:
Rich Cooper
Vice President, Strategic Communications & Outreach
Space Foundation
(202) 596-0714
[email protected]
[email protected]
---
Posted in Discover Space