Uncategorized
---
Volunteer Spotlight: Gordon Beacon
Written by: Space Foundation Editorial Team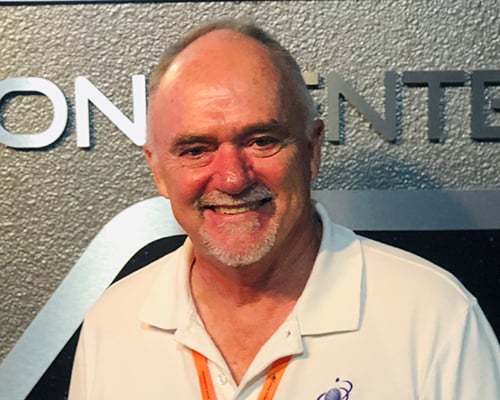 These Volunteer Spotlight articles profile some of the interesting and dedicated people who make Space Foundation programs possible. We could not do the work that we do without the generous and tireless support of our volunteers. This week, we are featuring Space Foundation Discovery Center volunteer Gordon Beacon.
Gordon was born in Montreal, Quebec, Canada, and lived there until his family emigrated to Northern New Jersey, where he lived in Sparta until he joined the U.S. Air Force in 1976. For his first eight years in the Air Force, he maintained photographic equipment. He was later deployed to Royal Air Force (RAF) Alconbury for six years. He was then selected for instructor duty and spent the next five years teaching technical training, and another five years after that writing technical training manuals. He was honorably retired from the Air Force, achieving the rank of Master Sergeant (E-7).
Gordon has worked in many sectors since retiring from the Air Force. He has instructed military, civilian, corporate, and small-business clients in many different technical and soft skills courses, including Global Positioning Systems (GPS), communication satellites, and space training.
Outside of his volunteer work, Gordon enjoys flying drones and driving remote-control cars, as well as taking daily walks and hikes. He researches his family history, and plays darts, table tennis (ping pong), and billiards. Family is a very important part of Gordon's life — he has three daughters, twin sons, and six grandchildren ranging in age from four months to 20 years old.
Gordon enjoys sharing his passion to educate and interact with visitors at the Discovery Center. He feels that the docent team is very valuable because of their vast and diverse knowledge of space systems, and personally, Gordon loves to use his training abilities to teach visitors about space sciences and GPS. Gordon is certified on the Discovery Center's Science On a Sphere® and Mars Robotics Laboratory, and he has conducted docent tours since 2016.
If you are interested in becoming a Space Foundation/Space Foundation Discovery Center volunteer, please reach out to Jennifer Walters, Volunteer Program Manager, at [email protected]
---
Posted in Uncategorized