Space Foundation News
---
Space Foundation's 'State of Space 2021' Program Set for February 9
Written by: Space Foundation Editorial Team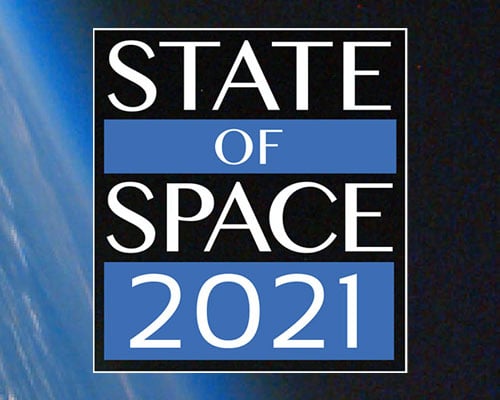 CEO Tom Zelibor to review 2020 accomplishments, and opportunities to come for the global space ecosystem.
Program will highlight key leader perspectives from civil, industry, national security, financial, and international space sectors
COLORADO SPRINGS, Colo. — Jan. 28, 2021 — Space Foundation, a 501(c)(3) global space advocate for nearly 40 years, today announced it will host its "State of Space 2021" program on Feb. 9, 2021, at 10:00 a.m. EST.
The third annual event will be hosted virtually via Space Foundation's digital platform, Space Symposium 365. The program will be presented to viewers at no cost, but registration at Space Symposium 365 is required for access at https://www.spacefoundation.org/events/the-state-of-space/
In announcing the program, Space Foundation CEO Tom Zelibor shared, "Since we started our annual State of Space program, Space Foundation has used these gatherings to highlight the people, organizations, and issues that are shaping the global space ecosystem. For all of its challenges, 2020 was a remarkable and record-breaking year, but our future is even more promising."
Following opening remarks by Zelibor detailing the achievements of 2020 and outlining future challenges and opportunities, the State of Space 2021 program will showcase five unique perspectives from a select group of leaders in the space ecosystem:
The expansion and growing diversity of the space ecosystem requires that we hear multiple perspectives in order to better understand the challenges and opportunities that will unfold in the years to come. Space Foundation intends to lead many of those discussions in an effort to ensure that there is "space for all."
For more information about this program, including biographies on the State of Space 2021 presenters, go to www.spacesymposium365.org.
About Space Foundation
Space Foundation is a 501(c)(3) nonprofit advocate for the global space community. Through a partnership model, its Center for Innovation and Education unites the entire spectrum of global stakeholders, including public and private businesses, government agencies, educational institutions, and local communities, to serve the entire life cycle of the workforce, from students and young leaders to entrepreneurs and professionals. Best known for its annual Space Symposium, and now the digital Space Symposium 365, Space Foundation also publishes The Space Report, its quarterly authoritative guide to research and analysis of the space industry. Headquartered in Colorado Springs, Colo., Space Foundation's Discovery Center offers rich programming on-site and online for teachers, parents, and students. Visit Space Foundation at www.SpaceFoundation.org, and follow us on Facebook, Twitter, Instagram, LinkedIn, and YouTube.
###
All brand names and product names are trademarks or registered trademarks of their respective companies.
Tags: Space Foundation, State of Space 2021, civil space, commercial space, national security space, space finance, international space, space ecosystem, space commerce, space technology, space innovation, Dr. Kathy Sullivan, Dave Kaufman, Gen. David Thompson, Chris Quilty, Dr. Tidiane Ouattara
Media Contact:
Rich Cooper
Vice President, Strategic Communications & Outreach
Space Foundation
(202) 596-0714
[email protected]
[email protected]
---
Posted in Space Foundation News