Uncategorized
---
Volunteer Spotlight: Derek Mosley
Written by: Space Foundation Editorial Team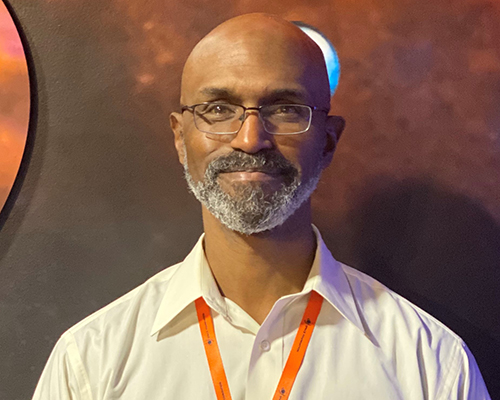 These Volunteer Spotlight articles profile some of the interesting and dedicated people who make Space Foundation programs possible. We could not do the work that we do without the generous and tireless support of our volunteers. This week, we are featuring Space Foundation Discovery Center volunteer Derek Mosley.
Derek served as an Air Force Space Command Space Systems Operator from 1987 to 2008, performing missile warning and space surveillance missions at Cape Cod Air Force Station, MA; Schriever AFB, CO; and Osan Air Base in the Republic of Korea. After 10 years as an operator, he was able to put his experience to use as an instructor and wargamer for Schriever's Space Warfare Center, and then as a strategic planner for Air Force Space Command.
After retirement, Mosley spent the next 12 years managing the technical side of the web-based, parent-implemented literacy program his wife Bridget developed, and he did a bit of math tutoring on the side as well. Derek and Bridget live in Colorado Springs, have two grown daughters and a son-in-law, and their joint passion continues to be serving children. They transitioned to semi-retired life in January 2020, and Derek, wanting to return to the space community and share it with others, began volunteering at the Discovery Center in October of that year.
If you are interested in becoming a Space Foundation/Space Foundation Discovery Center volunteer, please reach out to Jennifer Walters, Volunteer Program Manager, at [email protected]
---
Posted in Uncategorized