Public Policy and Government Affairs
---
Biweekly Washington, D.C., Update for the Week Ending July 30, 2021
Written by: Hanh Le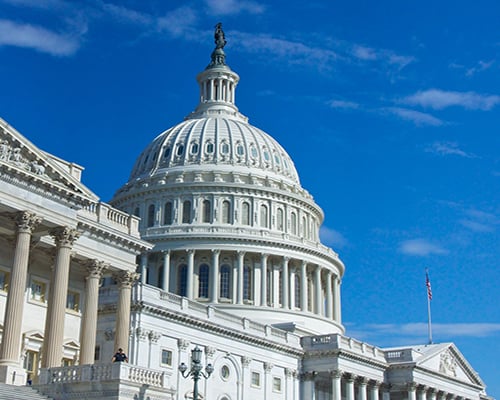 This week, the Senate confirmed Frank Kendall III to be the 26th Air Force secretary in a voice vote. The Senate moved forward through procedural votes on the major infrastructure bill. President Biden nominated John Plumb, chief of government relations at the Aerospace Corporation, to be assistant secretary of defense for space policy.
The Space Report Q2 2021 now available
The 2021 Q2 edition reports that the global space economy in 2020 grew by 4.4% to nearly $447 billion from a revised 2019 total. While government spending was down slightly more than 1%, commercial revenue in 2020 grew 6.6%, reaching $356.68 billion.
S. military space spending increased by more than 6% in 2020 but over the past decade, represents a 2.3% reduction.
Space employment in European nations climbed to more than 50,000 in 2020, posting a 42% increase since 2010.
Visit our page to purchase The Space Report. Contact us to receive a free Key Takeaways document.
'Start Here for Space' Series
Space Foundation's "Start Here for Space" is a free series on our virtual platform. The series will consist of 20 minutes videos that aim to provide a foundation on emerging space issues and current space events. Our first season will feature episodes ranging from space debris to the Artemis Accords.
Register here to access the series, free 365 days a year, on Symposium 365 website.
Tune in every Tuesday at 1pm EDT for new episodes.
The next episode will be on On-Orbit Satellite Servicing, Assembly, and Manufacturing, presented by Rachel McNeal, Maxar.
House Committee on Commerce, Science, Technology
Subcommittee on Space and Aeronautics Summary
Witnesses: Mr. Robert Gibbs, Associate Administrator for the Mission Support Directorate, National Aeronautics and Space Administration
Highlights:
NASA infrastructure is falling behind. 2013 marked the last time the subcommittee examined infrastructure. This will have huge implications on NASA's progress and scientific innovation.
Subcommittee Chairman Don Beyer (D-VA), Committee Chairwoman Eddie Bernice Johnson (D-TX) and Subcommittee Ranking Member Brian Babin (R-TX) emphasized the severity of infrastructure challenges and the need for updated facilities and maintenance.
Democratic members highlighted impacts of climate change on centers, especially those located on coastal facilities.
Gibbs said NASA's current infrastructure is the "single greatest threat to mission success"
Gibbs confirmed that the backlog in maintenance is not impacting SLS / Orion.
Space Policy Updates
Space Industry Updates
Brian Babin Profile
Representative Brian Babin, D.D.S. is the United States Representative for Texas's 36th Congressional District since his swearing in 2015.
He is the Ranking Member of the House Space and Aeronautics Subcommittee on the Science, Space, and Technology Committee.
Within his congressional district, he represents NASA's Johnson Space Center (JSC) which is home to the astronaut corps, International Space Station mission operation, as well as the Orion program.
During his time in Congress, Representative Babin has been a vocal advocate for American involvement and leadership in space.
He is a strong supporter of NASA  and has put forth legislation to support the commercial space sector.
After receiving his degree from Lamar University, Representative Babin served in the United States Air Force from 1975-1979. After leaving the Air Force, he opened a dentist practice in Woodville, Texas, and concurrently began his involvement in local Republican politics. Over the course of the following four decades, Representative Babin served in various positions, including Mayor of Woodville.
Further Reading
The Space Review | China is using mythology and sci-fi to sell its space program to the world
By Molly Silk
The author discusses the naming of Chinese space programs after Chinese mythology and current blockbuster projects such as The Wandering Earth and novels such as the Three Body Problem.
Additional Space Foundation Resources
Space Trivia
On July 22, 1995, Space Shuttle Discovery, STS-70 landed at NASA's Kennedy Space Center. The mission was to deploy a Tracking and Data Relay Satellite (TDRS-G) (NASA)
---
Posted in Public Policy and Government Affairs