Uncategorized
---
Volunteer Spotlight: Nikki Wickes 
Written by: Space Foundation Editorial Team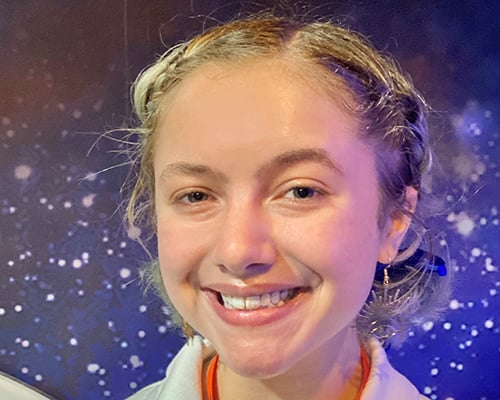 These Volunteer Spotlight articles profile some of the interesting and dedicated people who make Space Foundation programs possible. We could not do the work that we do without the generous and tireless support of our volunteers. This week, we are featuring Space Foundation Discovery Center volunteer Nikki Wickes.
Nikki attends Manitou Springs High School in Manitou Springs, Colorado, where she is a cheerleader and a member of the environmental club. Outside of school and volunteering, she also enjoys sewing and baking, as well as gardening and camping. In general, she truly enjoys being outdoors and exploring nature with her friends. Following high school, she plans on earning a doctorate in Astrobiology, with a focus on interplanetary life forms.
Wickes started as a Junior Docent at Space Foundation Discovery Center in summer 2021. She was initially trained in the Mars Robotics Laboratory, but then mostly self-taught herself to become a presenter on the Science On a Sphere®. Science On a Sphere® is her favorite exhibit because she finds it very interesting to watch how other Discovery Center staff give their various presentations on it, and because she feels that it's a unique experience to virtually see the planets presented three-dimensionally.
If you are interested in becoming a Space Foundation/Space Foundation Discovery Center volunteer, please reach out to Jennifer Walters, Volunteer Program Manager, at [email protected]
---
Posted in Uncategorized