Space Foundation News
---
Space Foundation Launching Moon Colony Kit Project for Classrooms
Written by: Space Foundation Editorial Team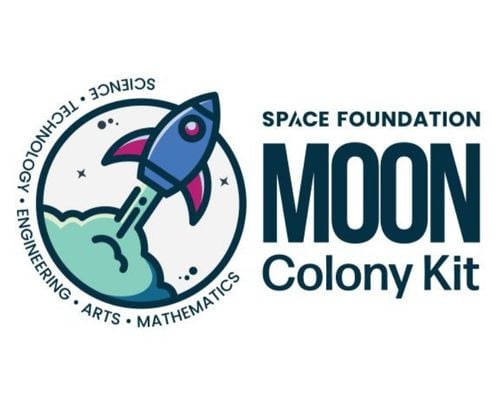 Students and educators grades 4-8 can participate
Kit highlights 50 different STEAM careers
Website offers Spanish translation 
COLORADO SPRINGS, Colo. — Sept. 15, 2022 — Space Foundation, a nonprofit advocate organization founded in 1983 for the global space ecosystem, today announced a free, interactive classroom experience, the Moon Colony Kit. The kit was developed in collaboration with NASA and The White House National Space Council and with principal sponsorship from AstroSapiens Foundation.
In collaboration with The White House National Space Council's priority to promote career awareness of space opportunities, the project embodies a "Space for Everyone" theme and enables 20,000 students at U.S. Title I schools and in underrepresented neighborhoods to explore 50 different STEAM careers associated with establishing a Moon colony.
Drawing from the excitement of the Artemis I mission, Space Foundation is hosting a free, national educator professional development event for thousands of educators with NASA and Space Foundation education specialists on Monday, Sept.19 to discuss the Artemis program and related educational opportunities.
At a live mission briefing during World Space Week 2022 on Friday, Oct. 7, the Moon Colony Kit project will kick off a nationwide student challenge in which top-performing students will have the opportunity to participate in NASA-themed programs at Space Center Houston.
In this engaging classroom event, students will learn about the Artemis mission through an informative student briefing and collaborative classroom activity. Registrants will be shipped a free Moon Colony Kit prior to the briefing.
Both the educator professional development event and the mission briefing event will be recorded for those unable to view live.
In announcing the Moon Colony Kit, Space Foundations Vice President of Education Dr. John West said, "After many hours of planning, we are so excited to bring the Moon Colony Kit to fruition. Our hope at Space Foundation is to inspire students to explore an exciting range of space careers of today and tomorrow through the Moon Colony Kit experience."
To learn more about the Moon Colony Kit and to register, visit discoverspace.org/education/resources-for-educators/moon-colony-kit/.
To take part in the Moon Colony Kit project, please contact Space Foundation at [email protected].
About Center for Innovation and Education
Center for Innovation and Education, a division of Space Foundation, is a lifelong learning provider for the global space ecosystem that offers workforce development and economic opportunity for pre-K-12 and university students, teachers, entrepreneurs, businesses and space professionals. Programs and resources are delivered in person or virtually around the globe. Through its Workforce Development Roadmap of programs and resources, Center for Innovation and Education enhances the outlook and opportunities for careers, jobs and business ventures. To learn more about Center for Innovation and Education, please visit www.spacefoundation.org/cie, and  visit www.discoverspace.org to learn more about Space Foundation Discovery Center.
About Space Foundation  
Space Foundation is a nonprofit advocate organization founded in 1983, offering a gateway to information, education and collaboration for space exploration and space-to-Earth industries that define the global space ecosystem. Driven by a partnership model, Space Foundation operates three divisions that unite the entire spectrum of stakeholders — business, government, education and local communities — through support from corporate membership, sponsorship, fundraising and grants. Symposium 365 is the premier source for media and events, including Space Symposium and The Space Report. Center for Innovation and Education is a lifelong learning platform. Global Alliance facilitates collaboration around the world. Visit Space Foundation at www.SpaceFoundation.org, and follow us on LinkedIn, Facebook, Instagram, Twitter and YouTube. 
###
All brand names and product names are trademarks or registered trademarks of their respective companies.
Tags: Space Foundation, Center for Education and Innovation, Moon Colony Kit, The White House National Space Council, NASA, AstroSapiens, Artemis I, STEAM education, lifelong learning, space ecosystem, space technology, space education
Media Contacts:
Rich Cooper
Vice President, Strategic Communications & Outreach
Space Foundation
(202) 596-0714
[email protected] 
Dottie O'Rourke
TECHMarket Communications
(650) 344-1260
[email protected]  
---
Posted in Space Foundation News