Spotlight
---
Sponsor Recognitions for Strategic Space and Defense 2008
Written by: developer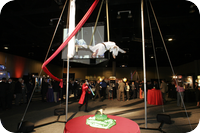 The Welcoming Reception and Exhibit Center Opening on 6 Oct., co-sponsored by the Greater Omaha Economic Development Partnership, set the stage for attendees, exhibitors, and the men and women of U.S. Strategic Command to meet, mingle, and discuss their expectations for the days to follow at Strategic Space and Defense 2008.  Chamber President and CEO Mr. David G. Brown welcomed all participants.
Dubbed "Cirque du Space," an exciting Cirque Du Soleil-inspired performance, provided by WonderWorld entertainment, created a daring and awe inspiring ambience in the exhibit center. The show featured former Cirque performers who defied perceptions of what the human body is capable of doing by fusing strength, flexibility, and technical skill.   Guests were amazed as the aerialists and pole climbers used free-standing poles and rigs for their artful performances.
Other highlights of the conference included The Strategic Space and Defense Dinner, co-sponsored by Northrop Grumman, which featured remarks from the United States Senator, The Honorable Ben Nelson of Nebraska; the Congressional Luncheon, co-sponsored by Ball Aerospace & Technologies Corp., which featured Congresswoman The Honorable Ellen O. Tauscher of California; Breakfast Buffets, co-sponsored by Booz Allen Hamilton and the Bellevue Chamber of Commerce; a Networking Luncheon in the exhibit center, co-sponsored by CSP Associates; The Strategic Space and Defense Cocktail Reception, co-sponsored by Raytheon; and the Reception in Honor of the Men and Women of U.S. Strategic Command, co-sponsored by Integral Systems, Inc. 
 
Other sponsorships included Mannheim Steamroller's co-sponsorship of "Musical Mocha Stations" during each morning break and the NASA Nebraska Space Grant, Lockheed Martin, and ATK's co-sponsorship of a program for local Omaha middle and high school students. Also benefitting Space Foundation education programs was a contribution made by Ball Aerospace & Technologies Corp. to provide scholarships for four teachers to attend the Space Foundation's 2009 Space Discovery Institute.
 Other co-sponsors for Strategic Space and Defense 2008 included Analytical Graphics, Inc., Arrowhead Global Solutions, Computer Sciences Corporation, CSP Associates, Inc., ITT, Orbital Sciences Corporation, SpaceX, and Sterling Computers.
This article is part of Space Watch: October 2008 (Volume: 7, Issue: 10).
---
Posted in Spotlight