Spotlight
---
Strategic Space and Defense Sponsor Recognition
Written by: developer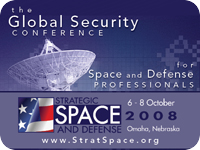 As we head to Omaha for another Strategic Space and Defense conference, we want to thank all of our corporate supporters and co-sponsors of the event.
 
Analytical Graphics, Inc.
Arrowhead Global Solutions
ATK
Ball Aerospace & Technologies Corp.
Bellevue Chamber of Commerce
Booz Allen Hamilton
Computer Sciences Corporation
CSP Associates, Inc.
Greater Omaha Economic Development Partnership
Integral Systems, Inc.
ITT
NASA Nebraska Space Grant
Lockheed Martin
Mannheim Steamroller
Northrop Grumman
Orbital Sciences Corporation
Raytheon
SpaceX
Sterling Computers
 
We hope to see you at the Qwest Center Omaha Convention Center and Arena from 6-8 October. For secure online registration, a complete program agenda, and speaker, exhibitor, and sponsor lists, visit www.StratSpace.org.
 
This article is part of Space Watch: October 2008 (Volume: 7, Issue: 10).
---
Posted in Spotlight