Spotlight
---
John L. "Jack" Swigert, Jr., Award for Space Exploration
Written by: developer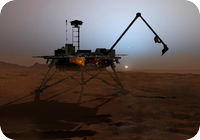 Among the honorees at the 25th National Space Symposium will be the Phoenix Mars Lander Team, receiving the Space Foundation's 2009 John L. "Jack" Swigert, Jr., Award for Space Exploration. The award recognizes the team's technical developments that led to the quest for and discovery of water on Mars.
"The Phoenix Mars Lander's confirmation of water on the Red Planet is perhaps of one of the most important discoveries of our time," said Space Foundation CEO Elliot Pulham. "In addition to acknowledging the outcome of the Phoenix Mars Lander mission, the award also recognizes the management of the program. This is the first NASA mission to employ a management structure with a single lead scientist from an academic institution."
Principal Investigator Peter H. Smith of The University of Arizona is supported by a science team of co-investigators. NASA's Jet Propulsion Laboratory provided project management, mission management, and technical collaboration with the science and spacecraft teams. Lockheed Martin Space Systems' responsibilities included spacecraft development, assembly, test, launch vehicle integration and flight system mission operations support. International contributions are provided by the Canadian Space Agency; the University of Neuchatel, Switzerland; the universities of Copenhagen and Aarhus Denmark; the Max Planck Institute, Germany; and the Finnish Meteorological Institute.
The Phoenix Mars Lander Team will accept the award during the Opening Ceremony of the 25th National Space Symposium on Monday, March 30. The opening Ceremony is co-sponsored by Lockheed Martin. For more information on the award, go to www.NationalSpaceSymposium.org/symposium-awards. For more information about the Phoenix Mars Lander Team's selection, go to www.spacefoundation.org/news/story.php?id=658.
This article is part of Space Watch: March 2009 (Volume: 8, Issue: 3).
---
Posted in Spotlight