Spotlight
---
Apollo 11 Recollections #8
Written by: developer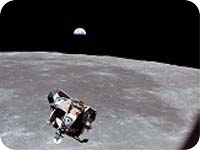 You Could Feel the Electricity
I was sitting in the Butternut Room which was a fancy library with floor-to-ceiling book shelves and lots of wood everywhere at Allerton House in Monticello, Ill. I was a sophomore in college (University of Illinois) and that summer I was fortunate enough to be a live-in camp counselor at the annual art camp for Illinois high school students that was held each summer in a Georgian mansion outside Monticello, my hometown. The art students had already gone to bed and we counselors were gathered around a small black and white TV. All the lights were off in this room and the little TV glowed. We were all so excited to be experiencing history in the making that you could feel the electricity in the air. A chill went through me when I saw the fuzzy image of the first man to step on the moon. The sound was scratchy and garbled and difficult to understand. We all knew that it would be a moment in history that we would never forget during our entire lifetime. And, to this day, the Butternut Room remains one of my most favorite places. – Patricia Huffman
Amazing!
My family and I were at a Cub Scout Pinewood Derby at Ft. MacClellen, Ala. I was seven years old and my brother was the Scout. I remember that one of the fathers had brought a tiny portable TV to the derby and all the adults were crowded around to watch. There was such excitement and awe although the images were grainy and hard to see. I remember looking up at the moon which was visible and trying to imagine that there were actually people walking on it. Amazing! – Kathy Harrington
Memories of the Crew's Return to Earth
I was 14 and living at Hickam AFB in Hawaii. My father was in the Air Force and stationed there. I remember sitting on the floor in the living room by myself watching the lunar landing on our black and white TV. I don't remember why no one else watched with me. I also remember going to Pearl Harbor when the ship that picked up the astronauts docked. There was a large crowd and the TV stations were there. My dad, older brother, and I couldn't get too close because of the crowd, but I remember seeing the astronauts wave as the exited the ship. Two other memories of that day are that I wandered over and stood in front of one of the TV cameras and my best friend who was watching at home saw me on TV. I have no idea if it was national. The other one is that I was standing by someone's car and around the time the astronauts arrived someone stood on the trunk of the car to get a better view. Soon another person got on the car and before long there were about ten people standing on the trunk, hood and roof of this car trying to see and take photos. The trunk, hood and roof were crumpled from the weight of all of the people. After a bit a man came up and hollered, "What the #@*& are you doing on my car, look what you've done to my car!!" People scrambled to get out of there like cockroaches when the light comes on. These strangers had caused a lot of damage to somebody's car in the mob-like frenzy to get a look at the first astronauts to go to the moon. – David J. Burdekin
Listening on Voice of America
I was 19 and it was the summer between my freshman and sophomore year in college when the first moon walk happened. My father, who was in the Air Force, was stationed at Andersen AFB, Guam, and I was spending the summer there. I was a little angry, because we had to listen to it on the Voice of America! I was a history major and felt I was missing something important since we weren't able to see it live. The announcers kept talking about even the Chinese were watching, but we couldn't. A week later on the TV, we got the recorded news. – Ann Webb
A Hometown Hero
My husband John was born and raised in Wapakoneta, Ohio, the same hometown as Neil Armstrong. John's aunt attended Blume High School with Neil, and John's grandmother was very good friends with Neil's parents, Steve and Viola. John had the same science teacher, John Crites, who inspired Neil's scientific interest. At the time of Neil's moon walk, John was stationed at the Naval Communication Station in Wahiawa, Hawaii. He was a bit of a local celebrity with his Navy buddies because he was also from Wapakoneta, Ohio. I was working my summer job in Findlay, Ohio, at the Kodak film processing plant. I was on second shift and my coworkers and I watched a grainy black and white TV picture from the employee break room as Neil stepped on the moon, since the moon landing was about 11 p.m. in the Eastern time zone. Neil's famous words were transmitted with static and have been misquoted through the years, but he intended to say "One small step for a man, one giant leap for mankind." A few years later in 1972, when Neil was a professor at the University of Cincinnati, there was a chance meeting in an elevator with the very private Mr. Armstrong. Being from Ohio, we were both quite proud of our fellow Buckeye astronaut. – Lynne and John Becker, Colorado Springs, Colo.
In Awe
I was in Gainesville, Fla., finishing my doctorate in education. Two other couples and I had gathered at one of the couples' apartment in married student housing to watch the event. As a science teacher and in the company of other science teachers we were in awe of the entire event. – Melvyn Morris
I Understood the Significance
I was ten years old. As the Lunar Module was landing on the lunar surface, my parents and I were at a barbecue at a relative's. They brought out a small black and white TV and yelled to all of the kids to come watch history as man landed on the moon. I was already at the TV as I understood the significance of what was taking place. But all of the other kids ignored them and continued to kick a ball and run around. I recall thinking "what's up with that?" Later that evening, while awaiting the first lunar EVA, I remember watching Steve Allen play a piano and sing songs about the moon to fill time. Then I watched Neil and Buzz make history. Certainly one of the most important moments in my life. – Mark B Pokrywka
Just a Bonus
I was sitting in my third grade class in Flint, Mich. Mrs. Greene had a television set brought into the room. None of us kids had ever seen a TV in a classroom before so we knew this was something special. After watching projector movies two or three times a week during school watching anything on television was a treat. The fact that she wanted us to see the moon landing was just a bonus. I had been interested in space ever since I knew what it was and to be able to see the landing live, and not have to wait for the evening news was a wonderful thing. Going on later in life working to build the external tank is just very special to me. – Jerry Swearns
WE Landed on the Moon
I followed every step of the moon mission from liftoff to landing. Knowing how interested I was in all things related to space travel, my dad brought me home a cardboard punch-out type model of the Moon Lander that he got from a Gulf Oil service station. I assembled the model prior to the landing, tying a string to the top so I could touch down on the carpet the same time as the Lander touched down on the moon. The day finally came and I sat down in our living room in front of our Philco color TV (of course everything was in monochrome) with my Gulf cardboard Lander and counted down the seconds to touchdown in unison with NASA. 5, 4, 3, 2, 1 -TOUCHDOWN – I called for my mom and told her WE (NASA and I) had just landed on the moon!!!! I was nine years old and I still have the newspaper from the following day that announced the landing! Boy, I wish I still had that Lander! – Ray (Rocky) Palmer
I Will Always Remember
I was a very excited nine-year-old. My parents promised me and my sisters that we could watch the landing, but to our immense disappointment we had to go to bed and then get up again in time to see it. However, we did do just that and what a moment it was! One of the greatest human achievements and one of the very few events during my life that I will always remember. – David Kemp
Take Note of Important Events
I was nine at the time and attending a Boy Scout camp. All activities were suspended for the televised time and everyone was crowded into the lunch hall for a mandatory viewing. I wasn't that thrilled about it at the time but looking back I am grateful the counselors had the foresight to make us view history in the making. I now can tell my grandchildren about the experience and how they should take note of important events happening in their lifetime. – Dan Hogan
Late News, But Riveting
I regret to say that I don't have a specific Apollo 11 landing memory. That was the summer between 8th grade and high school, and I spent the summer working on my grandparents' sugar plantation and cattle ranch in the remote southern region of the island of Hawai'i. We had no television reception of any kind, and faint AM radio signals from Honolulu could only be tuned in late at night. Days after the landing, we finally got news of it by way of the Hilo newspaper, which in those days did not publish daily. I was, of course, riveted by the news and read the story over and over again. But, where was I when Apollo 11 landed? Probably at the beach! – Elliot Pulham, Space Foundation, Colorado Springs, Colo.
I'm Going to be a Scientist at NASA
Watching the landing on the moon was a memorable experience. Imagine a 12-year old growing up in Peru watching the landing on a very grainy black and white TV set, while adjusting the rabbit ear antenna to try to get better reception. Needless to say, I was glued to the TV waiting to see the lunar landing and the first human steps on the moon. With five kids in the family the house was never quiet, but during those few minutes before landing, you could hear a pin drop. Later that night, I told my parents "when I grow up, I'm going to be a scientist at NASA." They responded "well, you'll have to work quite hard to get there," and that was the start of the challenge. Fifteen years later I got my first summer assignment at the Kennedy Space Center doing lightning and thunderstorm research, and a few years later I started working full time at KSC and still continue to date. July 20, 1969, was a date that shaped my life, and I could never stop admiring the people who had a role in sending a manned spacecraft to the moon and returning it to earth. – Pedro Medelius
Positive Counterpoint
I was a 22-year-old space program fanatic who stayed up all night watching the coverage on TV, while assembling a complex lunar module from a kit. I think we folks whose teens and twenties were caught up in civil rights and Vietnam found the space program a positive counterpoint to what we saw on the news and something that fired our imaginations. – Hank Gardiner
First Step
My parents told me that I took my first step that day. I was exactly nine months old. 27 years later I got married that same day, July 20th, 1996. I would say that July 20 is a memorable day for me, every year. – Jennifer Gipe
Closed for Celebration
I was stationed in England and was recently married. We decided to go to Scotland for a delayed honeymoon. We had seen Loch Ness and many old castles and were on our way back home. We were going to get gas at Holy Loch Navy Base to save some money and stopped at a bed and breakfast nearby for the night. The cost for the night was 10 shillings, about $1.20 at the time. We were having dinner and I knew they had a television but knowing the cost of electricity I decided not to ask if I could watch the moon landing. But the owner's young son was really interested in watching and they asked me if I would be willing to sit up and watch their son and tell him what was going on. I guess the fact that I told them I was in the Air Force probably helped. We both spent the night watching "the greatest show on the moon." The next day we went to get gas at the Navy base and guess what? It was closed for the celebration of the landing. I had to pay on the economy which was about $1.75 more a gallon than I was expecting. But it was a good trip and I wouldn't have missed it for anything. – Dwight Seaton
Giant Splash
I was working as a life guard at Elk Grove pool. We brought in a TV and set it on the counter to watch the moon landing just as the pool opened. The kids rushed in as we announced the landing. The kids said, "So what, we want to go swimming!" That's one small step for man, one giant splash dive for mankind. – Dan Winkelman
A Memory from Goddard Space Flight Center
I was just finishing my shift that morning after supporting the Apollo 11 mission at the Goddard Space Flight Center in Greenbelt, Md. I had worked a 12-hour communications shift, and because of the excitement of a human being landing and walking on our moon, leaving the site and watching it at home on TV was not an option. It would not have been the same not seeing the expressions on everyone's faces and hearing the cheers of my co-workers after each checklist task was completed. We were in a moment of shock when we received the audio "This is Tranquility Base, the Eagle has landed." I was then and 40 years later, very proud to have been a part of the Apollo mission that landed men on the moon. – Jeff Booker
There Was No Question
The president had given us the challenge and we had a deadline to meet. Anytime there was a problem, Congress provided additional funding as needed. There was no question that you would not be able to do something because of a lack of funds. There were periods where we had 24-hour days and you just didn't leave the office. The longest I remember working straight through was 36 hours non-stop. People just made the sacrifice. Working on Saturdays and Sundays was commonplace. It was an exciting time and we closely watched the Gemini flights. All of those activities could be heard on the plant PA system and everyone would stop what they were doing when critical flight events occurred. (During Apollo 11) I remember the critical moment when Buzz Aldrin was guiding the lander down and they were talking back and forth to the control center and I remember thinking I hope my engines work – and they did. – Stanley Barauskas, Boeing (worked on Apollo 11 small engines)
Didn't it Make You Believe?
When Armstrong made the comment, "That's one small step for man, and one giant leap for mankind" he misspoke. He was supposed to say, "One small step for A man, and one giant leap for mankind". Thus, the pause in the recording. This is still one of the finest moments in history. Remember watching this on the only TV in the house? Black and white probably… Didn't it make you believe you could do ANYTHING you wanted to? We need that kind of spirit and belief again! – Mike McMahon
Even the Hardest Cases Cheered
I was halfway to Hawaii, as a crew member of a Kaiser Merchant Marine Victory ship. We gathered in the crew mess and watched our grainy black and white TV. As Armstrong's foot touched the surface of the moon, even the hardest cases among us cheered. – Larry De Cicco
To read more, click here.
Photo courtesy of NASA 
This article is part of Space Watch: August 2009 (Volume: 8, Issue: 8).
---
Posted in Spotlight