The View From Here
---
Strategic Space Symposium: Your Best Networking Opportunity
Written by: developer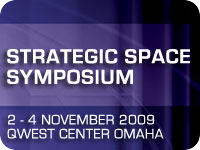 The Strategic Space Symposium, set for Nov 2 - 4, 2009, at the Qwest Center Omaha in Omaha, Neb., will offer space and defense professionals an unparalleled opportunity for education, interactive discussion, and exposure to the latest space operations technologies.
The new event is structured to facilitate networking with policy-makers, decision-makers, and deal-makers. Co-sponsored by the United States Strategic Command (USSTRATCOM) and the Space Foundation, the event is expected to attract more than 1,500 government officials, military leaders, top industry executives, and exhibitors from around the world.
To learn more about how you can become a part of this powerful equation, read this issue of Space Watch and go to www.StrategicSpaceSymposium.org.
The low, low registration fee offers Strategic Space Symposium attendees a great deal: ONLY $395 for active duty military/government (excludes government contractors) if paid by Nov. 4; ONLY $595 for industry/educator/nonprofit/contractor.
The registration fees includes breakfast, sessions, receptions, exhibits, and one ticket to each luncheon. A limited number of additional luncheon tickets are available to purchase for guests. To purchase extra tickets, contact Space Foundation customer service at 800.691.4000 or [email protected].
The Strategic Space Symposium will feature two full days of speeches, panel discussions, interactive breakout sessions, networking opportunities, and exhibits focused directly on global space strategy and warfighter issues and requirements. Themed Advancing Space Capabilities and Strengthening Operations to Promote Global Security, the Symposium will showcase industry best practices, cutting-edge technologies, and emerging space capabilities, as well as providing a platform to discuss challenging space issues and shape space policy.
Presentations will include perspectives from senior leaders from the Department of Defense, U.S. and Allied government, industry, and academia. Track and breakout sessions, which will be led by USSTRATCOM Command leaders and industry experts, will explore a wide variety of topics and will give attendees ample opportunity to participate in open discussion and formulation of recommendations.
For more information, including online registration, agenda, speakers, and exhibitor and sponsorship information, go to www.StrategicSpaceSymposium.org. Also, see related Space Watch articles:
This article is part of Space Watch: September 2009 (Volume: 8, Issue: 9).
---
Posted in The View From Here